The World of Smart TVs: A Step-by-Step Buying Guide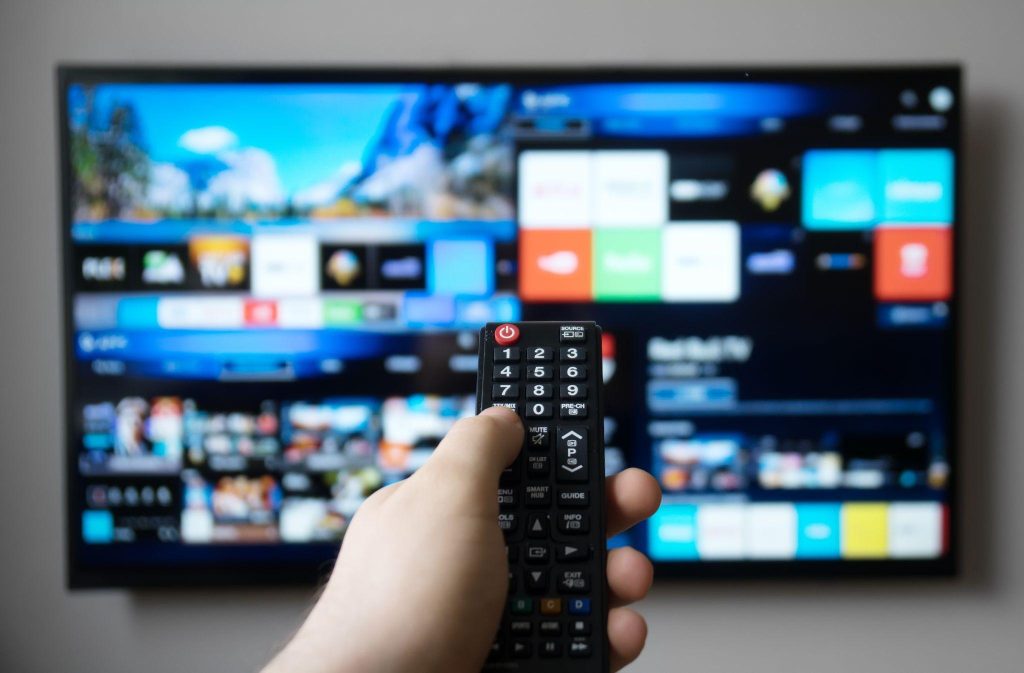 When shopping for a new smart TV, you would think it would be as simple as going to an electronics store to buy it. However, things are not always as simple as they seem. Thanks to the latest advances in technology, you have many different options, configurations, screen types, and other options to choose from when selecting a new smart TV.
Fortunately, you do not have to waste countless hours researching every little detail and pro and con of every smart TV on the market. Our step-by-step buying guide covers every essential detail of what to look for when buying a TV. So, you will be armed with the knowledge you need to select the best smart TV to suit your needs.
Step 1: TV Placement
The first step is to determine where the TV will be placed. Do you intend to mount it on the wall? What is the spacing in between the studs on the wall? Knowing the stud placement is essential to ensure you get a TV wall mounting kit that will line up directly with the studs, so your new smart TV can be secured to the wall correctly.
If you are not going to put it on the wall, what is the size of the TV stand or entertainment center? You need to know these dimensions to avoid buying a TV that is too big.
Most importantly, it would be best to base the placement on how you intend to use the TV. For example, if you plan on connecting it to an antenna, cable, or satellite, you want to ensure the TV is near the box where you need to connect the cable.
However, if you will be strictly using streaming services, you just need to ensure a strong enough Wi-Fi connection or a nearby router box to connect the network cable.
Step 2: Screen Size
The screen size of the TV should relate to the distance between its placement and where you will sit and view it. Ideally, you want the TV to take up between 30 and 40 percent of the available viewing distance for the best viewing experience.
For example, if there are six feet between your sofa and the TV, you would want a TV between 45 inches and 60 inches to be within the 30 to 40 percent guideline. Any bigger than this, you would be too close to the TV. As such, some people become nauseous from the movement on the TV because they are too close.
Keeping this in mind, smart TVs range in size from 32 inches to 85 inches, with 65 inches being the most popular size. Yet, there are TVs bigger than 85 inches, and a few manufacturers now offer 100-inch TVs.
So, if you have an eight-foot space between you and the TV, you would want an 85-inch TV to be within the 40 percent viewing area. You would only need a 100-inch TV if the distance were 10 feet or more.
Step 3: Cost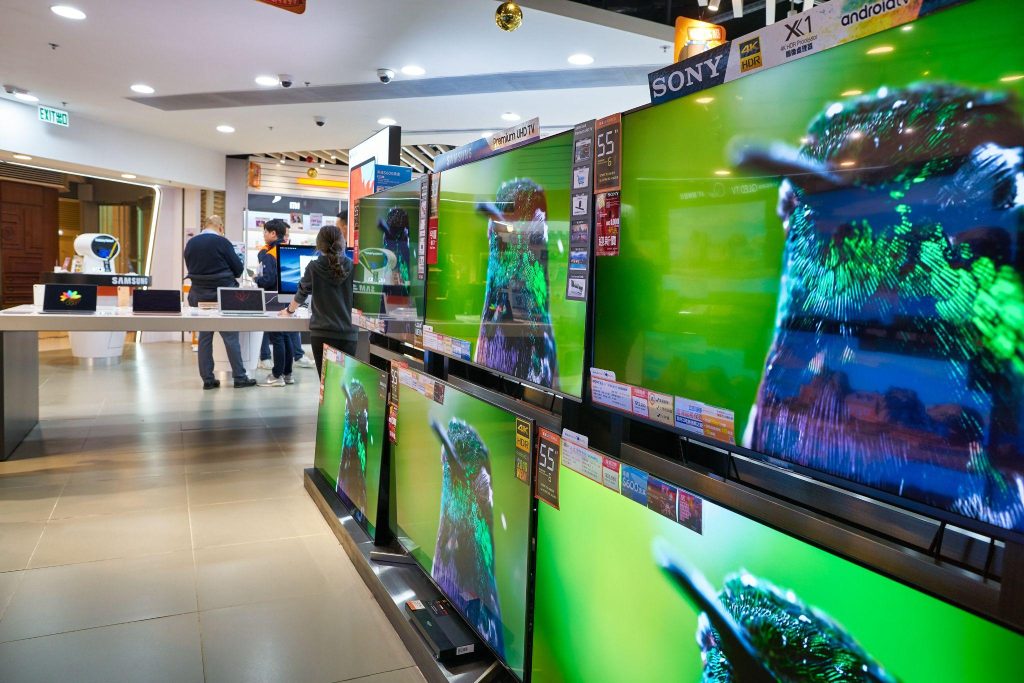 The cost of smart TVs varies depending on the brand, features, etc. Another thing you will notice is smaller TVs tend to cost more than larger TVs. For example, you can get a decent-quality LED HD smart TV for around $200. Yet, you can find 55-inch TVs starting around $300 and 65-inch TVs starting around $400.
Cost becomes a consideration when you start to get to 75-inch and 85-inch TVs with the latest technologies. You could easily spend over $2,000. The most expensive TVs are the 100-inch models that start around $15,000!
Step 4: Features
What features do you want in your new smart TV? Do you want it to have built-in Wi-Fi or the ability to wire it directly to a router box or both? Some of the most important features to consider include:
Number of Inputs – Inputs determine how many devices you can connect to the TV. For instance, you may need to connect a streaming device, cable box, video game console, and Blu-ray player. You need to verify the TV has enough inputs for all your devices.
Type of Inputs – The type of inputs is equally important. While most devices use HDMI cable connections, you may still have older devices that require component video cables—the ones with the red, blue, green, yellow, and white connections.
Built-in Apps – Smart TVs have an operating system like smartphones and tablets. This allows you to download streaming service apps, gaming apps, music apps, etc. However, not all smart TVs offer an extensive range of apps as others.
Streaming Capabilities – Smart TVs connect to your home network wirelessly or directly to a router. When choosing a smart TV, verify the wireless technology is newer for the best wireless speeds.
Audio Outputs – Smart TVs do not have the best sound quality. So, you will need a sound bar or surround sound home theater system for superior sound quality. You should review what audio outputs are included on the TV to confirm they will work with a sound bar or your existing surround sound system.
Smartphone Compatibility – Some smart TVs are compatible with smartphones where you can transfer content from your smartphone onto the TV screen. Other TVs include a downloadable app where you can control various TV functions and other capabilities through the app, such as using your smartphone headphones to watch TV late at night.
Smart Device Compatibility – Another feature available on smart TVs is the ability to connect with and control other smart devices in your home. For example, if you have Amazon-enabled smart devices, then you would want a smart TV that integrates with those devices. On the other hand, if you had Google-enabled smart devices, then you would want a TV with built-in Google features to control those devices directly from the TV, such as a Nest smart thermostat.
Step 5: Viewing Angles
The viewing angles determine how clear the picture will be when watching TV. Lower-end budget smart TVs have blurry viewing when attempting to watch the TV from the side. This can also be an issue when you mount the TV above your field of vision, as above a fireplace. However, smart TVs with OLED display technology have clearer viewing angles that address this issue.
Step 6: Curved or Flat Smart TV?
Curved TVs were an advancement in TV viewing technology that was not widely adopted. Yet, there are still several brands on the market today. The primary benefits of a curved TV are:
The viewing field appears to be bigger than a flat screen.
You can feel more immersed in movies, games, and television shows.
The viewing angle is improved, so the image is not blurry from the sides.
The images can appear sharper and more even.
It provides a 3D-like experience even though the TV is 2D.
The contrast on the screen can be better than flat screens.
However, there are some drawbacks to curved screen TVs, including:
The curve does limit the viewing angles because you will only see part of the screen from the sides.
The curve can make reflections from lights a problem that washes out the screen and makes it difficult to see.
Curved screens do not look good when mounted to the wall.
The smallest size curved screen you can purchase is 55 inches.
The interest in curved screens seems to be fading out.
Step 7: Resolution – HD or 4K UHD or 8K UHD?
HD TVs were the first advance from analog to digital. Full HD is 1080p and is no longer very popular. The preferred standard is 4K UHD (ultra-high definition), which offers 2160p. 8K UHD TVs are an emerging technology that offers 4320p.
While 8K TVs do have features to upscale 4K TV content, there are very limited advantages of having one. Except, of course, if you must have the latest TV technology.
Step 8: LCD/LED/OLED?
LCD televisions used liquid crystal display technology using a single backlight. However, due to their high energy consumption, they were replaced by LCD-LED technology. So, light-emitting diodes are now used as the backlight on LCD TVs.
LED televisions offer better display quality than traditional LCDs. Essentially, LED TVs are very similar to LCD-LED TVs that use LEDs as the backlight to display the image on the TV. However, LEDs can burn out and leave black spots on the display since the image is no longer backlit.
QLED or quantum-dot light-emitting diode technology is a step up from LEDs. While they output a higher brightness level and eye-catching color than OLEDs, they fall short in response times, making images appear jerky in fast-paced content running over 30 frames per second.
OLED is often thought of as an upgrade to LED technology. However, organic light-emitting diodes are used in place of a backlight. Instead, each light-emitting diode responds to a specific pixelated area on the display on the TV.
Since each "dot" is controlled individually, the image looks better, smoother, and more colorful. Furthermore, OLED TVs do not have viewing angle issues since each pixel is controlled by an individual LED. Additionally, the blackness level of OLED televisions is equally superior compared to LCD-LED, LED, and QLED TVs.
Step 9: Refresh Rates
Refresh rates refer to how frequently the TV screen refreshes the image and influences picture quality. Currently, the two refresh rates are 60Hz and 120Hz. In general, having a 120Hz refresh rate should provide superior motion handling.
For most people, a 60Hz refresh rate is sufficient to view most 4K content, as it refreshes the image 60 times per second. However, if you need higher frame rates, like in video games and live sports, then a 120Hz refresh rate is a better choice because it refreshes the images 120 times per second.
Is there a difference between refresh rates and frames per second (fps)?
Essentially, the refresh rate tells you the number of fps the TV can support. So, for example, a 60Hz TV can support 60 frames per second, and a 120Hz television can support 120 frames per second.
To put this in perspective, movies are usually filmed at a rate of 24 fps. TV shows are typically filmed at 30 fps, and live events are transmitted at up to 60 fps. Newer gaming systems like the Playstation 5 and XBOX Series X have video game content that runs at 120 fps.
Step 10: Remote Control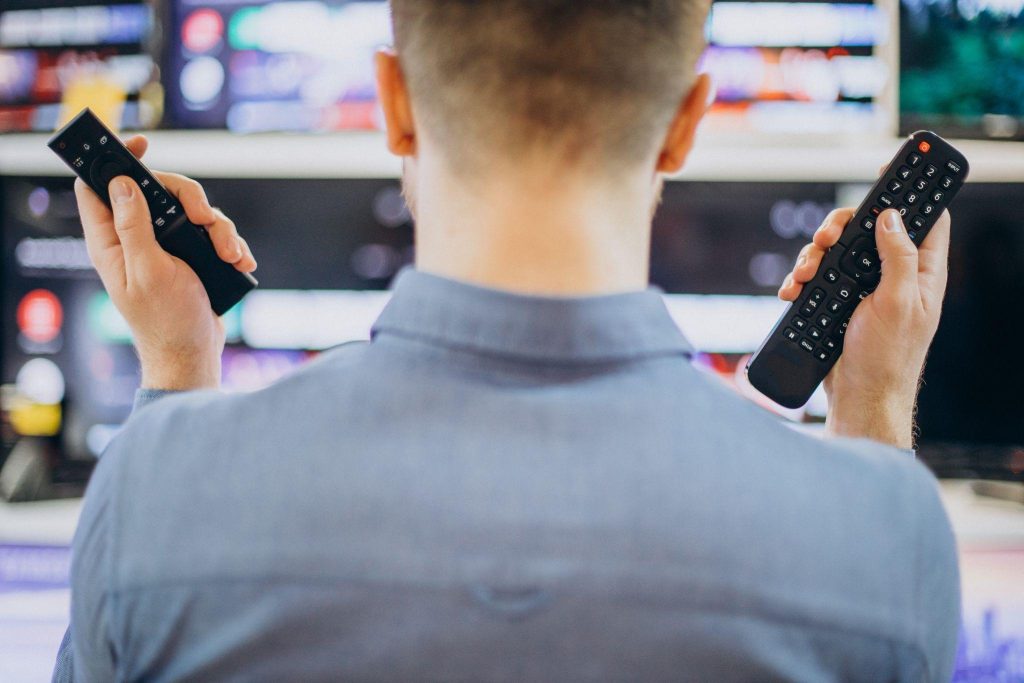 One mistake people make when selecting a TV is looking at the remote control. Rather than focus on the other essential aspects of choosing a smart TV, they get caught up in voice-controlled remotes or ones with shortcuts to streaming services.
Do not worry about the remote control that comes with the smart TV. You can upgrade it to a different model later with the features you want on your remote from Replacement Remotes.
Step 11: Warranty Coverage – Do I Need an Extended Warranty?
An extended warranty is unnecessary for most smart TVs because of the cost. However, if you are investing more than $2,000 in a smart TV, having an extended warranty beyond the manufacturer's warranty can be a good investment just in case something goes wrong. Furthermore, if you are getting one of the newer 100-inch televisions, definitely spend the money on an extended warranty.
The Bottom Line
Deciding what smart television is best really depends on your personal preferences and needs. Make sure to use our buying guide and make a list of the features and options you require. For example, verify the TV has the right number of inputs to support all your devices and that it supports any streaming services you use.
Once you narrow down the models that have exactly what you want, take the time to visit your local electronics store to compare the difference in viewing angles and display quality.
After you get your new smart TV, you can upgrade your remote control at Replacement Remotes to control all of your devices from a single remote. Browse our selections online or contact us at 855-573-6683 for further assistance today.