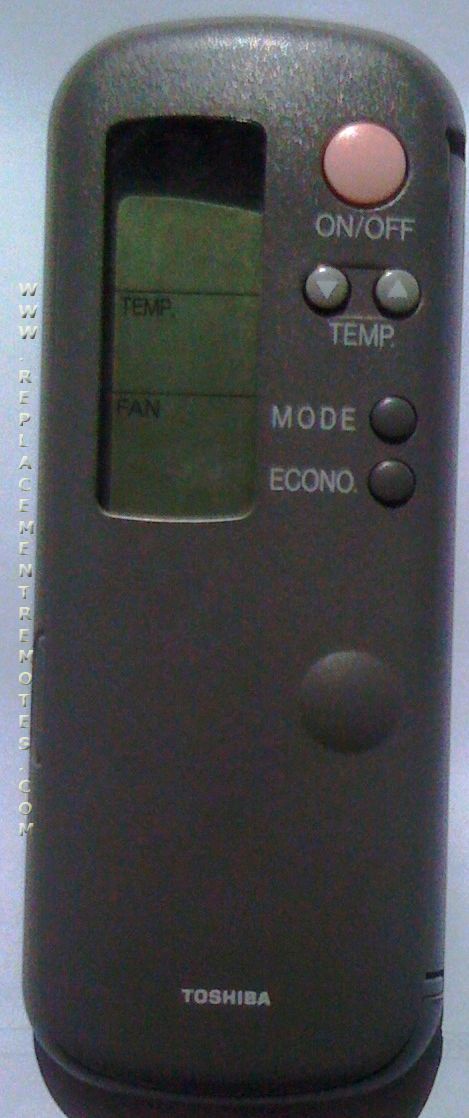 Roll over image to zoom in
Click on image to zoom
Product Description:
The Toshiba 43069666 remote control allows easy operation for your compatible Toshiba model. The Toshiba 43069666 is perfect if you lose the one that was included with your unit or if you're in need of an additional remote. The 43069666 controls all basic functions of the unit. Batteries Sold Separately.
Model: 43069666
Part Number: 43069666
Catalogue No.: 17944

The original TOSHIBA 43069666 Air Conditioner Remote Control carries a 60-Days Warranty.
TOSHIBA 43069666 Air Conditioner Remote Control is guaranteed to work with the following Air Conditioner Unit models:
Originally supplied with Air Conditioner Unit models: TOSHIBA RAS07PKH, TOSHIBA RAS07UKH, TOSHIBA RAS07UKHX, TOSHIBA RAS09PKH, TOSHIBA RAS09UKH, TOSHIBA RAS09UKHX, TOSHIBA RAS10NA2XT, TOSHIBA RAS10NK2XT, TOSHIBA RAS13UKH, TOSHIBA RAS13UKHG TOSHIBA RAV132CHRPE TOSHIBA RAV133KHRPE TOSHIBA RAV162CHRPE TOSHIBA RAV163KHRPE TOSHIBA RAV163SHRPE TOSHIBA RAV203KHRPE TOSHIBA RAV262CHRPE TOSHIBA RAV263KHRPE TOSHIBA RAV263SHRPE TOSHIBA RAV362CHRPE TOSHIBA RAV462CHRPE
Compatible with Air Conditioner Unit models: TOSHIBA RAS07UKR, TOSHIBA RAS07UKR4CX, TOSHIBA RAS07UKR4X, TOSHIBA RAS07UKRX, TOSHIBA RAS092NK, TOSHIBA RAS09PKL, TOSHIBA RAS09PKL2UW, TOSHIBA RAS09UKR, TOSHIBA RAS09UKR2C, TOSHIBA RAS09UKR4CX TOSHIBA RAS09UKR4X TOSHIBA RAS09UKRX TOSHIBA RAS10BA TOSHIBA RAS10UKR TOSHIBA RAS10UKR4X TOSHIBA RAS10UKRX TOSHIBA RAS10YKHTW TOSHIBA RAS13NKR2C TOSHIBA RAS13PKHTW TOSHIBA RAS13UKR TOSHIBA RAS13UKR2C TOSHIBA RAS13UKR4 TOSHIBA RAS13UKR4C TOSHIBA RAS18PKHT2U TOSHIBA RAS18UKHT TOSHIBA RAS18UKHT4C TOSHIBA RAS18UKR TOSHIBA RAS18UKR4 TOSHIBA RASM092JKR TOSHIBA RASM09UKR2C TOSHIBA RAV163SHPE TOSHIBA RAV263SHPE
Originally Supplied with Models