Product Description:
YAMAHA AV RECEIVER REMOTE CONTROL WJ55340
Model: WJ553400
Part Number: WJ553400
Catalogue No.: 61273

Battery Required :
AA Battery 2 pack
Frequency Type :
IR
Dimensions:
2.00 x 10.00 x 1.00 (W x L x D, inches)
YAMAHA WJ553400 Receiver Remote Control is guaranteed to work with the following Audio/Video Receiver models:
Originally supplied with Audio/Video Receiver models: YAMAHA 52D05A, YAMAHA YSP3000, YAMAHA YSP3000UC, YAMAHA YSP4000, DENON YSP4000BL,
Compatible with Audio/Video Receiver models: YAMAHA K7A3A, YAMAHA YESP900/1100, YAMAHA YSP1100, YAMAHA YSP1100U, YAMAHA YSP900,
Customer Reviews
Exactly what I needed! Works perfectly.
The remote is great! Worked great right out of the box. Only reason I did not rate at 5 stars, was the processing and shipping time. Ordered Dec 24th, paid $20 for two day shipping with UPS. (2nd most expensive option) Multiple indications that perhaps we would receive it fairly quick. Received on 1/6/17. 13 days later. S
Great service, acceptable time frame and original product. I am very satisfied, would use again and recommend. It is just like the one that originally came with my soundbar. Thank you so much!
Operating Manual Available for YAMAHA WJ553400 Receiver Remote Control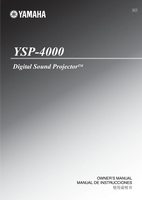 Originally Supplied with Models