Product Description:
YAMAHA AV RECEIVER REMOTE CONTROL YSP1100
Model: WJ210600
Part Number: WJ210600
Catalogue No.: 60043

Battery Required :
AA Battery 2 pack
Customer Reviews
High quality, new unit, international deliveries
Unbelievable service, having moved home I mislaid my Yamaha remote. I couldn't get a replacement in the UK and took a chance on this website. An original Yamaha remote was received within 5 days, and th status of my order was fed back to me via email. Many thanks, I highly recommend your business to all.
Excellent product same as original remote. Recommended.
YAMAHA WJ210600 Remote Control
Operating Manual Available for YAMAHA WJ210600 Receiver Remote Control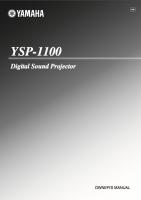 Originally Supplied with Models