Product Description:
REMOTE CONTROL YSP-800 RRC4001-2603EM
Model: WF75640
Part Number: WF756400
Catalogue No.: 60028

Battery Required :
AA Battery 2 pack
Dimensions:
2.00 x 5.00 x 1.00 (W x L x D, inches)
The original YAMAHA WF75640 Sound Bar Remote Control is in-stock and ships within 24 hours.
The original YAMAHA WF75640 Sound Bar Remote Control carries a 60-Days Warranty.
Customer Reviews
Superb replacement for the fifteen year old Yamaha sound bar remote we had. Now everything works on first button press and the battery compartment isn't being held together with duct tape. Would do business again.
Response time to our order was quick, communication about the shipping status was perfect, delivery was on time, and the product works as well as the originals (our dog ate the original Yamaha remotes - we have two YSP-1000 soundbars). We're using the new remote to control both soundbars until our current puppy is neutered... (sorry pal).
Fast and reliable service. Remote works like a charm.
Remote works well. Good service. Was kept up to date on the progress of the delivery. My remote was old and it took a little longer for them to find one but all worked out well. Thank you.
Works perfectly. Thank you.
YAMAHA WF75640 Remote Control
Exactly what I needed. The original remote!
YAMAHA WF75640 Remote Control
The replacement remote control was identical to the one that I had. Thank you for making the process available and convenient!
YAMAHA WF75640 Remote Control
YAMAHA WF75640 Remote Control
Operating Manual Available for YAMAHA WF75640 Sound Bar Remote Control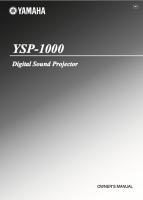 Originally Supplied with Models