Product Description:
REMOTE CONTROL
Model: RAV472
Part Number: ZA238200
Catalogue No.: 79097

Battery Required :
AA Batteries 3 Pack
Dimensions:
2.00 x 6.00 x 1.00 (W x L x D, inches)
The original YAMAHA RAV472 Receiver Remote Control is in-stock and ships within 24 hours.
The original YAMAHA RAV472 Receiver Remote Control carries a 60-Days Warranty.
Customer Reviews
Works just like the original; wonderful.
Perfect replacement for my RAV475 remote which had the volume control buttons not functioning after years of use. Received it quickly via USPS and would definitely buy again from your website!!
The remote works as well as the original did until it stopped working.
Thanks for obtaining the Yamaha remote control!
Item is as per original remote. Worked immediately and functions exactly the same.
Not an exact replacement for the original -lacks some of the original functions - but more than satisfactory for our needs. And the price is very reasonable.
Exactly as promised and works perfectly
Works perfectly and controls unit just the same as the original remote that came with the receiver. No complaints whatsoever.
Fast Service....Great Pricing
Factory replacement. Works as expected.
Exactly what I ordered. Very timely.
Worked perfectly as a replacement remote for my AV receiver. Took it out of packaging, put the batteries in, and it worked.
Got the remote fairly quickly. Works great!
Exact replacement I needed. Works flawlessly.
Perfect for my use.
OEM refurbished remote. I needed an OEM remote for most likely a one time use. This was a refurbished OEM for the price of a generic. In my case, the refurbished remote was perfect for initial set up as I use a harmony one remote to control my whole ht set up. Fast shipment also.
YAMAHA RAV472 Remote Control
item and shipping were priced well, arrived in a day of ordering and was exactly like the original it was replacing
YAMAHA RAV472 Remote Control
YAMAHA RAV472 Remote Control
Replacement Yamaha Remote for AV receiver
Operating Manual Available for YAMAHA RAV472 Receiver Remote Control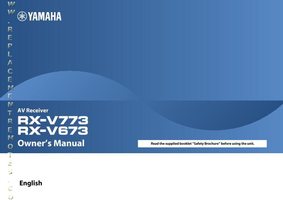 Originally Supplied with Models