Product Description:
YAMAHA AV RECEIVER REMOTE CONTROL.

PLEASE PURCHASE THE REPLACEMENT ANDERIC RAV311 (Works most main features, check to make sure it has all functions you need)
Model: RAV367
Part Number: WK480500
Catalogue No.: 62437

Battery Required :
AAA Batteries 4 Pack
Dimensions:
2.00 x 6.00 x 1.00 (W x L x D, inches)
The original YAMAHA RAV367 Receiver Remote Control carries a 60-Days Warranty.
YAMAHA RAV367 Receiver Remote Control is guaranteed to work with the following Audio/Video Receiver models:
Originally supplied with Audio/Video Receiver models: YAMAHA HTR6190, YAMAHA RXV1800,
Customer Reviews
The item arrived on time and in excellent condition. Thanks.
Perfect. Works great. No complaints. Easy purchase.
Worked like the old one. 5 stars
Item works and looks great. Was suppose to be in stock but was backordered. Retailer kept me informed as to what was going on and it did not take long to receive it once they got it.
YAMAHA RAV367 Remote Control
I know this product and using as per my expectations, was listed as New but its not. I can see mark of uses.
Operating Manual Available for YAMAHA RAV367 Receiver Remote Control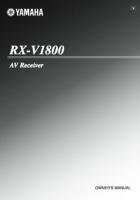 Originally Supplied with Models