Product Description:
REMOTE RAV341
THIS REMOTE IS DISCONTINUED - IF LOOKING AT REPLACEMENTS PLEASE MAKE SURE THE REMOTE HAS ALL THE FUNCTIONS YOU NEED. SUCH AS ZONE2, AV SELECTORS, SLEEP, ETC.
PLEASE PURCHASE THE REPLACEMENT ANDERIC RRAV498 (Works most main features, check to make sure it has all functions you need, will not work Zone 2)
Model: RAV341
Part Number: WT927700
Catalogue No.: 79008

Battery Required :
AAA Battery 2 pack
Dimensions:
2.00 x 6.00 x 1.00 (W x L x D, inches)
The original YAMAHA RAV341 Receiver Remote Control carries a 60-Days Warranty.
YAMAHA RAV341 Receiver Remote Control is guaranteed to work with the following Audio/Video Receiver models:
Originally supplied with Audio/Video Receiver models: YAMAHA RXA800,
Customer Reviews
Fast shipping. Product exactly as described. excellent transaction. Thanks you. Most all of the later model Yamaha remotes are quite user friendly.
Quick turnaround time on order!
Product arrived very quickly and worked like a charm! Thanks
Works great. Great purchase.
It was great to find a factory replacement for a 10 year old component. The remote works perfect and the service was outstanding! Highly recommended.
Great job from online purchase, to delivery, to product satisfaction!
Perfect replacement for my home theater unit, just add batteries and good to go. Worked perfectly.
Description was right on and shipped fast
Awesome! Works great. Fast Shipping. Great price. I bought this to replace my old remote for my Yamaha rx-v665 after some buttons stopped working. After trying all the tricks to fix it with no success I had to buy this replacement. It works great and I can now control all my devices from one remote.
It works just fine, all the options that are available on the original remote work on the replacement remote! Shipping was not bad(7 days total) especially considering how hard it is to find the correct remote especially for A/V recivers.
Not compatible with my television, but otherwise works great.
Easy to replace no problems, very satisfied
excellent services and replacement remote works great. thanks
Great replacement for the remote my dog chewed up. Worked right away with no programming required.
Works great! As advertised, battery-up and you're in business!
Excellent replacement remote, actually like it better than the original.
YAMAHA RAV341 Remote Control
Hard to find product. The replacement remote works even better than the original!
Operating Manual Available for YAMAHA RAV341 Receiver Remote Control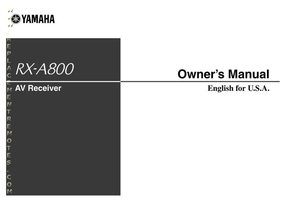 Originally Supplied with Models