Roll over image to zoom in
Click on image to zoom
Product Description:
YAMAHA A/V RECEIVER REMOTE CONTROL

MODEL: RAV221
PN: V6283400
Specifications
Model: RAV221
Part Number: V6283400
Catalogue No.: 55062
Battery Required :

AA Battery 2 pack

Dimensions:

2.00 x 6.00 x 1.00 (W x L x D, inches)
Customer Reviews
Exactly like the one I fried by leaving the batteries in while stored for 5 years. Yuck! I was in a panic and so grateful to have found it again. Thank you!
YAMAHA RAV221 Remote Control
Operating Manual Available for YAMAHA RAV221 Receiver Remote Control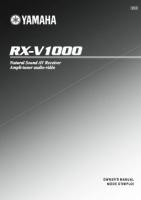 Originally Supplied with Models