Product Description:
YAMAHA A/V RECEIVER REMOTE CONTROL
MODEL: RAV2
PN: VV486200
RV502

Model: RAV2
Part Number: VV486200
Catalogue No.: 55219

Battery Required :
AA Battery 2 pack
Customer Reviews
Took forever to get here, but it works great! Thanks!
YAMAHA RAV2 Remote Control
Perfect match to what I required.
YAMAHA RAV2 Remote Control
This remote does what it says it will except does not talk to the t.v. How odd! But if the t.v. and receiver are connected a different way, then the remote is just fine.
Operating Manual Available for YAMAHA RAV2 Receiver Remote Control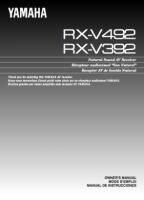 Originally Supplied with Models