Product Description:
YAMAHA AUDIO VIDEO RECEIVER REMOTE CONTROL
V268660EU
PLEASE PURCHASE THE REPLACEMENT ANDERIC RRAV300 (Works most features, check to make sure it has all functions you need)
Model: RAV173
Part Number: V2686601
Associated Number: RAV-173
Catalogue No.: 61869

Battery Required :
AA Battery 2 pack
Dimensions:
2.00 x 6.00 x 1.00 (W x L x D, inches)
The original YAMAHA RAV173 Receiver Remote Control carries a 60-Days Warranty.
Customer Reviews
YAMAHA RAV173 Remote Control
Product seems to function fine.
YAMAHA RAV173 Remote Control
What is one supposed to say? It does it job admirably, but that's what it is designed for.
Operating Manual Available for YAMAHA RAV173 Receiver Remote Control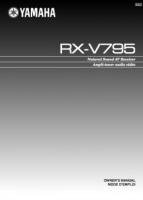 Originally Supplied with Models