Product Description:
REMOTE CONTROL
Model: FSR60
Part Number: WY578000
Catalogue No.: 78687

Battery Required :
AAA Battery 2 pack
The original YAMAHA FSR60 Sound Bar Remote Control carries a 60-Days Warranty.
YAMAHA FSR60 Sound Bar Remote Control is guaranteed to work with the following Sound Bar System models:
Originally supplied with Sound Bar System models: YAMAHA YAS101, YAMAHA YAS101BL,
Customer Reviews
Perfect through the whole process.
Brand new factory remote for my sound bar, works great.
It was shipped fast. The unit works after we put in the batteries. Thank you!
works great. thank you so much
The replacement remote works just as good if not better than the original remote. Thank You!!!!!!!!!!!!
Works great. Thanks much.
Remote looks great and performs great. Would definitely use Dan's again. Thanks, RVB
Quick service and it works.
Worked perfectly out of the box.
Thank you it works perfect
Identical to original, works great. Thanks.
So very happy with our new Yamaha Remote for our TV sound bar. It works perfectly, and so nice to have something that really works without having to tap it or play with it. Thank you so very, very much. From two people well over seventy who are not into "new" things.
Works as advertised---ok so far...
Arrived promptly and is a perfect match to the remote we were replacing.
great fast service product was perfect
Was very pleased that ordering a replacement remote was so easy. The response and delivery were excellent.
YAMAHA FSR60 Remote Control
YAMAHA FSR60 Remote Control
Operating Manual Available for YAMAHA FSR60 Sound Bar Remote Control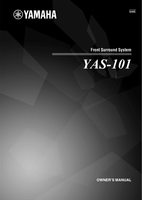 Originally Supplied with Models