Product Description:
XRS551-D INPUTS: AUX, DIGITAL, OPTICAL, HDMI IN, HDMI-ARC, BLUTOOTH, USB
Model: XRS551-D
Part Number: XRS551D
Catalogue No.: 91881

Battery Required :
AAA Battery 2 pack
Guaranteed Compatible Universal :
Anderic RRU401
, Use code:
4249,4264
(
click here for programming instructions
)
The original VIZIO XRS551-D Sound Bar Remote Control is available for special order.
The original VIZIO XRS551-D Sound Bar Remote Control carries a 60-Days Warranty.
VIZIO XRS551-D Sound Bar Remote Control is guaranteed to work with the following Sound Bar System models:
Originally supplied with Sound Bar System models: VIZIO SB2821D6, VIZIO SB3651-E6, VIZIO SB3820-C6, VIZIO SB3821-D6, VIZIO SB3851-D0, VIZIO SB4051-D5, VIZIO SB4451-C0, VIZIO SB4551-D5,
Compatible with Sound Bar System models: VIZIO SB2020nG6M, VIZIO SB3251n-E0, VIZIO SB3630E6, VIZIO SB3830-D0, VIZIO SB3831-D0, VIZIO SB4031-D5, VIZIO SB4531-D5,
Customer Reviews
Arrived on time. Worked perfectly right out of the box. It was exactly what I needed. It was a good value, particularly at its price. I'm very satisfied.
Item showed up in great condition. Fast shipping
I thought I was getting a new unit, when it turned out that I was not they called and asked if they could send me a used one, they thought it was an open box kind of a deal, I said that was fine and the credited me the difference. What they didn't know was that it did not work. I opened it up and it had some internal corrosion probably from getting wet. I cleaned it up after taking it completely apart. It works just fine now. I think they would not have sold it to me if they knew this. Over all it work out ok. I still would use them again if the dog gets the remote thinking it's a toy.
Product works great and delivery was prompt! Worked as soon as batteries were placed. Thanks!!
Operating Manuals Available for VIZIO XRS551-D Sound Bar Remote Control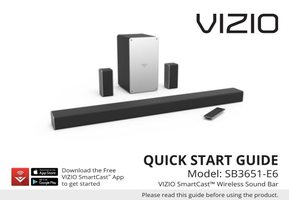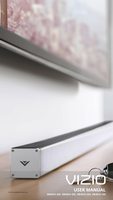 New Product
Free Download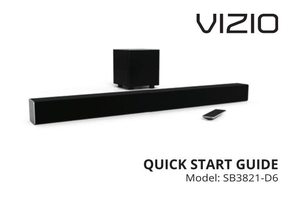 Originally Supplied with Models