Roll over image to zoom in
Click on image to zoom
Product Description:
REMOTE IR LCD 37.9KHZ 11KEY XRS500 (VIZIO)
Does inputs: Aux1, Aux2, Digital, Optical, USB, Bluetooth


Can use the replacement our Anderic replacement RRXRS321 (Doesn't have the LCD screen on remote)
Model: XRS500
Part Number: 098003061071
Associated Number: XRS521
Catalogue No.: 80942

Battery Required :
AAA Battery 2 pack
Guaranteed Compatible Universal :
Anderic RRU401
, Use code:
4249
(
click here for programming instructions
)
The original VIZIO XRS500 Sound Bar Remote Control is in-stock and ships within 24 hours.
The original VIZIO XRS500 Sound Bar Remote Control carries a 60-Days Warranty.
Customer Reviews
Lost old controller so replaced it with this new one. After placing batteries in it, it work pretty much right out of the package. I would recommend this place to my friends who may need to replace lost controllers.
Appears to be the same as the factory remote. Only complaint is that after you remove the plastic wrap the adhesive stuck on the back of the remote is very sticky and hard to remove. I just used the back from the other remote.
Exactly what I was looking for.
Prompt shipping & great service.
This remote works great, better than the original.
Just what i been looking for Perfect for my vizio surround sound. Speaker Thank again keep up the good work 9/10/2017. Napoleon
The remote was new and arrived promptly. It is a good replacement for the original one that came with the soindbar.
New in the bag,exact replacement I was looking for and works perfectly.
We were so glad to get our remote. It is identicle to the old one.
VIZIO XRS500 Remote Control
The product is an exact replacement of the one that came in our box - it just got lost in newspapers and accidentally thrown out.
VIZIO XRS500 Remote Control
Operating Manual Available for VIZIO XRS500 Sound Bar Remote Control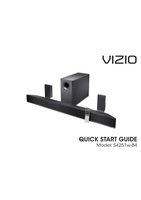 Originally Supplied with Models