Product Description:
The original VIZIO XRS321 Sound Bar Remote Control is available for special order.
The original VIZIO XRS321 Sound Bar Remote Control carries a 60-Days Warranty.
Customer Reviews
This remote worked perfectly.
The replacement remote works great. I appreciate the website being easy to navigate to find the right one to match the model number of my device. Shipped right away and delivered on time as promised.
Worked perfectly; glad I ordered the manual. I had forgotten some of the features/functions. Very pleased with both.
it does not work at all. we wish to return and receive credit on our credit card. please advise.
Great replacement, my remote works well. I'm so glad I found you guys and I'm glad I didn't have throw away my speaker. Thanks Dans electronics for my brand new remote!
This remote is exactly the same as my other one and works perfect.
Purchased as a replacement for a broken remote. Works as expected and arrived quickly.
The lower buttons on the remote are sunk in but work I need to use my finger nail to operate buttons. Remote works other than that.
Remote arrived early, works well, it appears to be new, in excellent condition and worth the money! Pleasant transaction.
I ordered and received my remote. The process was easy. The replacement remote works perfectly.
Works like a dream! Fast, easy ordering. Really nice to deal with a professional company. Thank you
it works perfect and I love it very much
The ordering process was easy, my remote came pretty quick and everything works like it's supposed to.
The order arrived in three days!
i thought the remote was a tad pricey...but certainly cheaper than buying a new unit. The delivery was fast and we are once again using the remote. All in all a fine experience.
I paid for batteries, but none were included in the package. It's not a big deal because I had some and I'd only paid $.99 for them, but don't feel I can give 5 stars for otherwise exemplary service with product missing from the package.
Perfect match. Worked without any problem once I put the batteries in it. Already programmed.
VIZIO XRS321 Remote Control
VIZIO XRS321 Remote Control
VIZIO XRS321 Remote Control
I bought the remote as a backup for the original remote because the Vizio sound bar I have has been discontinued. The backup remote is identical to the original, even the same package, with the same quality and the same simple and easy use.
VIZIO XRS321 Remote Control
Use to replace lost remote to TV sound bar. Great experience. Fast service and easy to locate right type of remote.
VIZIO XRS321 Remote Control
I highly recommend them. I received my remote promptly and it works just like my original one.
VIZIO XRS321 Remote Control
VIZIO 98003061471 Remote Control
from my first order you folks handled it all so well, polite and professional. when the remote didn't work I called and was meet with another pro, now I ma hearing sound. thanks
VIZIO 98003061471 Remote Control
Product was an exact replacement. reccomend to all my friends
VIZIO 98003061471 Remote Control
VIZIO 98003061471 Remote Control
Second hand control so another person can turn on the sound bar for the TV. It would be nice if the TV hand control would turn the sound bar on and off, but that is not the case so this hand control is my best option.
Operating Manuals Available for VIZIO XRS321 Sound Bar Remote Control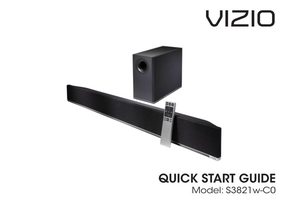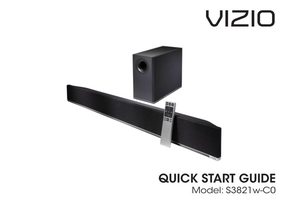 Originally Supplied with Models