Roll over image to zoom in
Click on image to zoom
Product Description:
TOT201,
MODEL: VC-N2B
PN: AD301651
TOSHIBA TV/VCR REMOTE CONTROL
Model: VCN2B
Part Number: AD301651
Associated Number: VC-N2B
Catalogue No.: 10156

Battery Required :
AAA Battery 2 pack
TOSHIBA VCN2B TV/VCR Remote Control is guaranteed to work with the following TV/VCR Combo models:
Originally supplied with TV/VCR Combo models: TOSHIBA MV13DN2C, TOSHIBA MV13N2, TOSHIBA MV13N2/TV, TOSHIBA MV13N2C, TOSHIBA MV13N3, TOSHIBA MV13N3C, TOSHIBA MV19DN2C, TOSHIBA MV19N2, TOSHIBA MV19N2/MV20P2, TOSHIBA MV19N2C TOSHIBA MV19N2C/TV TOSHIBA MV19N3 TOSHIBA MV19N3C TOSHIBA MV20P2 TOSHIBA VCN2B
Compatible with TV/VCR Combo models: TOSHIBA MV13N2W, TOSHIBA MV19N2W,
Customer Reviews
It's a 15 yrs old Tv and the remote works perfectly. Now I'm very happy with the new remote you sent me on March 1, Thank you very much. -Carolyn
Product seems to work well and is in excellent condition. Unfortunately, I discovered the tv is not accepting a signal from any remote, so I can't tell if everything works on the remote or not. Everything I've tried does work, and I would recommend it. Remote also arrived earlier than expected.
Operating Manuals Available for TOSHIBA VCN2B TV/VCR Remote Control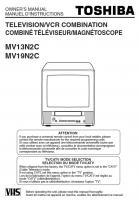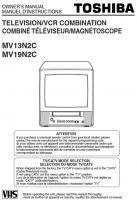 Originally Supplied with Models