Roll over image to zoom in
Click on image to zoom
Product Description:
VC625,
Specifications
Model: VC625
Part Number: BY634677
Associated Number: VC-625
Catalogue No.: 5121
Battery Required :

AAA Battery 2 pack

Dimensions:

2.00 x 6.00 x 1.00 (W x L x D, inches)
The TOSHIBA VC625 VCR Remote Control is originally supplied with VCR models: TOSHIBA W625, TOSHIBA W625C, TOSHIBA W625CF, TOSHIBA W627,
The TOSHIBA VC625 VCR Remote Control is compatible with VCR models: TOSHIBA W422, TOSHIBA W512A, Optoma W515, TOSHIBA W522, TOSHIBA W522C, TOSHIBA W528, TOSHIBA W55, TOSHIBA W622, TOSHIBA W727,
Customer Reviews
Great!
It got here faster than I thought thru the Post Office, put in the batteries and worked perfect.
TOSHIBA VC625 Remote Control
I purchased a refurbished remote for an older VCR. It arrived quickly and looked brand new. I would recommend their service to anyone looking to find replacement remotes for older machines.
Operating Manual Available for TOSHIBA VC625 VCR Remote Control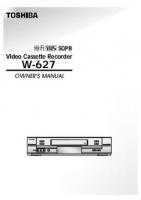 Originally Supplied with Models