Roll over image to zoom in
Click on image to zoom
Product Description:
MODEL: VC522
P/N: BY634675
TOSHIBA VCR REMOTE CONTROL
Model: VC522
Part Number: BY634675
Associated Number: VC-522
Catalogue No.: 5119

Battery Required :
AA Battery 2 pack
Dimensions:
2.00 x 6.00 x 1.00 (W x L x D, inches)
TOSHIBA VC522 VCR Remote Control is guaranteed to work with the following VCR models:
Originally supplied with VCR models: TOSHIBA W422, TOSHIBA W522, TOSHIBA W522C, TOSHIBA W522CF, TOSHIBA W528,
Compatible with VCR models: TOSHIBA W512A, Optoma W515, TOSHIBA W55, TOSHIBA W622, TOSHIBA W625, TOSHIBA W625C, TOSHIBA W625CF, TOSHIBA W627, TOSHIBA W727,
Customer Reviews
was nice to get a brand new remote for my brand new vhs player.
Best remote,just as we need it to replace our VC-522. Great customer service,fast shipping. So happy to find this company.
TOSHIBA VC522 Remote Control
Remote received was in almost new condition and in perfect working order
TOSHIBA VC522 Remote Control
see already made comments
Operating Manual Available for TOSHIBA VC522 VCR Remote Control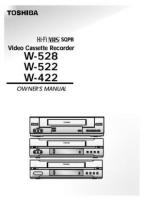 Originally Supplied with Models