Roll over image to zoom in
Click on image to zoom
Product Description:
Model: SE-R0213
PN: AH910002
SAME AS: AH910056
For: Toshiba DVD Video Player
Model: SER0213
Part Number: AH910002
Associated Number: SE-R0213
Catalogue No.: 36460

Battery Required :
AAA Battery 2 pack
TOSHIBA SER0213 DVD Remote Control is guaranteed to work with the following DVD Player models:
Originally supplied with DVD Player models: TOSHIBA HTX810T, TOSHIBA SD3990, TOSHIBA SD3990SC, TOSHIBA SD3990SU, TOSHIBA SDK760SU, TOSHIBA ser0213,
Compatible with DVD Player models: TOSHIBA SD4200, TOSHIBA SD6100, TOSHIBA SD6100KU, TOSHIBA SD7200, TOSHIBA SD7200KU, TOSHIBA SDK980, TOSHIBA SDK980K, TOSHIBA SDK980KU, TOSHIBA SDK990KU, TOSHIBA xde500ku
Customer Reviews
TOSHIBA SER0213 Remote Control
Right remote, works fine.
TOSHIBA SER0213 Remote Control
This replaced my Toshiba DVD remote on which the middle section of buttons stopped working (all arrows and menu and top menu buttons). The replacement immediately worked perfectly! I would highly recommend replacementremotes.com...both the quality of their products and their customer service is fantastic.
Operating Manuals Available for TOSHIBA SER0213 DVD Remote Control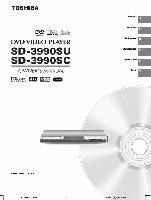 Originally Supplied with Models