Roll over image to zoom in
Click on image to zoom
Product Description:
Model: CT-9951
pn: 23306266
Replaced by: CT-9950
Note: These replacement remotes for this product will only work with Toshiba products. And are not programable to a vcr or cable box.
P/N 23306266
Model: CT9951
Part Number: 23306266X
Associated Number: CT-9951
Catalogue No.: 2496

Battery Required :
AA Battery 2 pack
The original TOSHIBA CT9951 TV Remote Control carries a 60-Days Warranty.
TOSHIBA CT9951 TV Remote Control is guaranteed to work with the following TV models:
Originally supplied with TV models: TOSHIBA CF27H50, TOSHIBA CF32H50, TOSHIBA CF36H50, TOSHIBA CL29H50, TOSHIBA CN36H50,
Compatible with TV models: TOSHIBA 27A50, TOSHIBA 27A60, TOSHIBA 27AF41, TOSHIBA 27AF42, TOSHIBA 32A12, TOSHIBA 32A12A, TOSHIBA 32A32, TOSHIBA 32A32A, TOSHIBA 32A41, TOSHIBA 32A42 TOSHIBA 32A42A TOSHIBA 32A50 TOSHIBA 32A60 TOSHIBA 32AF13 TOSHIBA 32AF41 TOSHIBA 32AF42 TOSHIBA 34AS41 TOSHIBA 34AS42 TOSHIBA 36A11 TOSHIBA 36A13 TOSHIBA 36A41 TOSHIBA 36A42 TOSHIBA 36A50 TOSHIBA 36A60 TOSHIBA 36AF13 TOSHIBA 36AF41 TOSHIBA 36AF42 TOSHIBA 43A1043A10R TOSHIBA 50A11 TOSHIBA 50A50 TOSHIBA 50A50R TOSHIBA CF19H32 TOSHIBA CF27H40 TOSHIBA CF32H40 TOSHIBA CF36H40 TOSHIBA CL20H32 TOSHIBA CL29H40 TOSHIBA CL34H40 TOSHIBA ct9950 TOSHIBA CZ27T31
Operating Manuals Available for TOSHIBA CT9951 TV Remote Control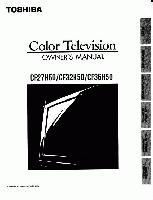 Originally Supplied with Models