Product Description:
Specifications
Model: CT90428
Part Number: 75033412
Associated Number: Ct-90428
Catalogue No.: 79754
Battery Required :

AAA Battery 2 pack

Guaranteed Compatible Universal : Anderic RRU401

, Use code:

2686,2665

(

click here for programming instructions

)

Dimensions:

2.00 x 6.00 x 1.00 (W x L x D, inches)
The TOSHIBA CT90428 TV Remote Control is originally supplied with TV models: TOSHIBA 32L4300U, TOSHIBA 32L4300UC, TOSHIBA 39L4300, TOSHIBA 39L4300U, TOSHIBA 39L4300UC, TOSHIBA 50L4300, TOSHIBA 50L4300U, TOSHIBA 50L4300UC, TOSHIBA 50L7300, TOSHIBA 50L7300U TOSHIBA 50L7300UC TOSHIBA 58L4300 TOSHIBA 58L4300U TOSHIBA 58L4300UB TOSHIBA 58L4300UC TOSHIBA 58L7300 TOSHIBA 58L7300U TOSHIBA 58L7300UB TOSHIBA 58L7300UC TOSHIBA 58L7300UM TOSHIBA 65L7300 TOSHIBA 65L7300U TOSHIBA 65L7300UB TOSHIBA 65L7300UC TOSHIBA 65L7300UM
The TOSHIBA CT90428 TV Remote Control is compatible with TV models: TOSHIBA 58L7350U, TOSHIBA 58L8400U, TOSHIBA 58L9300, TOSHIBA 58L9300U, TOSHIBA 65L7350U, TOSHIBA 65L9300, TOSHIBA 65L9300U, TOSHIBA 65L9400U, TOSHIBA 84L9300, TOSHIBA 84L9300U
Customer Reviews
Great service. Worked right out of the box. when or if I need anything again you are my guys. THANKS
Excellent service and product
Exactly what I needed! I'll keep this one out of reach of the dog!
The remote arrived on time. It was exactly what I needed. It works perfectly! I'm so glad I found this site! I will definitely recommend it to family and friends.
I will highly recomend you to my friends and relatives.I'm very happy with my irder thank you!!
Works great, received it quickly. Thank you!
It arrived quickly and the item was just as it was described.
Operating Manual Available for TOSHIBA CT90428 TV Remote Control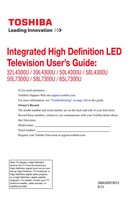 Originally Supplied with Models