Roll over image to zoom in
Click on image to zoom
Product Description:
REMOTE
WILL REPLACE THE FOLLOWING TV REMOTE CONTROL MODELS:
FUNAI NH200UD Emerson Sylvania (p/n: NH200UD)
Model: NH210UD
Part Number: NH210UD
Catalogue No.: 75309

Battery Required :
AAA Battery 2 pack
SYLVANIA NH210UD TV Remote Control is guaranteed to work with the following TV models:
Originally supplied with TV models: SYLVANIA LC190SS2, SYLVANIA LC220SS2, SYLVANIA LC260SS2, SYLVANIA LC320SS2, SYLVANIA LC401SS2,
Compatible with TV models: EMERSON Emerson LC407EM1, SYLVANIA Sylvania LC190SS1, SYLVANIA Sylvania LC220SS1, SYLVANIA Sylvania LC260SS1, SYLVANIA Sylvania LC320SS1, SYLVANIA Sylvania LC407SS1,
Customer Reviews
I'm so happy that I got this remote! It works perfectly. Thank you so much.
Operating Manuals Available for SYLVANIA NH210UD TV Remote Control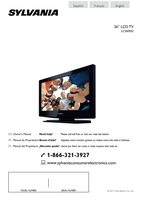 Originally Supplied with Models