Product Description:
REMOTE COMMANDER(RM-YD103)
Model: RMYD103
Part Number: 149276721
Catalogue No.: 89833

Battery Required :
AAA Battery 2 pack
Dimensions:
2.00 x 6.00 x 1.00 (W x L x D, inches)
The original SONY RMYD103 TV Remote Control carries a 60-Days Warranty.
SONY RMYD103 TV Remote Control is guaranteed to work with the following TV models:
Originally supplied with TV models: SONY KDL-17340W580B, SONY KDL-17340W590B, SONY KDL-17340W600B, SONY KDL-17342W700B, SONY KDL-17348W590B, SONY KDL-17348W600B, SONY KDL-17355W700B, SONY KDL-17360W610B, SONY KDL-48W580B, SONY KDL-60W630B SONY KDL173-32W700B SONY KDL173-50W700B SONY KDL173-60W630B SONY XBR173-55X800B SONY XBR173-65X800B
Compatible with TV models: SONY KDL32W700B, SONY KDL40W590B, SONY KDL40W600B, SONY KDL42W700B, SONY KDL46HX750, SONY KDL46HX751, SONY KDL46HX850, SONY KDL48W590B, SONY KDL48W600B, SONY KDL50W700B SONY KDL50W790B SONY KDL50W800B SONY KDL55HX750 SONY KDL55HX751 SONY KDL55HX850 SONY KDL55W700B SONY KDL55W790B SONY KDL55W800B SONY KDL55W950B SONY KDL55X830B SONY KDL60W610B SONY KDL60W850B SONY KDL65W950B SONY KDL65X830B SONY KDL70W830B SONY KDL70W850B SONY KDL70X830B SONY RMYD073 SONY XBR49X850B SONY XBR55HX950 SONY XBR55X800B SONY XBR55X850B SONY XBR55X900B SONY XBR65HX950 SONY XBR65X800B SONY XBR65X850B SONY XBR65X900B SONY XBR65X950B SONY XBR70X850B SONY XBR79X900B SONY XBR85X950B
Customer Reviews
It's just what we needed. Works great
Very quick and accurate product. Very happy with my purchase.
This remote works perfectly. Shipping was fast. I'm very satisfied with this product.
was identical to the original I got with the TV. Very satisfied
I love is great working fine just like the original
awesome remote. Better than my last sony remote!
Arrived quickly and in good condition. I put batteries in and it worked. Had it for 3 weeks with no issues.
I'm very happy with my new remote! Thank you!
remote works just like the original.
Got it right away. Great price and looks and performs as new.
Perfect replacement, Highly recommend
Shipping was quick and remote works perfectly!!!
Came fast... worked perfect. Very happy
worked perfect & no set up hassles!
Excellent packing of item. Very fast shipping.
My dog chewed up the remote and I needed one to replace it. This was an exact match to the old remote and arrived in a timely manner.
Great Product. Efficient service.
SONY RMYD103 Remote Control
Operating Manuals Available for SONY RMYD103 TV Remote Control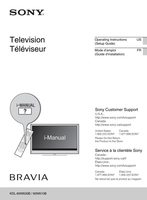 Originally Supplied with Models