Roll over image to zoom in
Click on image to zoom
Product Description:
CHEAPEST ON THE NET GUARANTEE!
REMOTE CONTROL
Specifications
Model: RMYD037
Part Number: 148771111
Associated Number: RMY-D037
Catalogue No.: 64441
Battery Required :

AA Battery 2 pack

Guaranteed Compatible Universal : Anderic RRU401

, Use code:

2660

(

click here for programming instructions

)
The SONY RMYD037 TV Remote Control is originally supplied with TV models: SONY KDL40NX700, SONY KDL46NX700, SONY KDL46NX800, SONY KDL52NX800, SONY KDL60NX800, SONY KDL60NX801, SONY RMYD037,
The SONY RMYD037 TV Remote Control is compatible with TV models: SONY KDL40NX710, SONY KDL40NX711, SONY KDL46NX710, SONY KDL46NX711, SONY KDL46NX810, SONY KDL55NX810, SONY KDL55NX811, SONY KDL60NX810, SONY RMYD036, SONY XBR40LX900 SONY XBR46LX900 SONY XBR52LX900 SONY XBR60LX900
Customer Reviews
Brand new remote as advertised. I knew before I purchased it was a special order and it arrived much earlier than expected.
Arrived on time works great
SONY RMYD037 Remote Control
Original remote lasted about 5 yrs
Operating Manuals Available for SONY RMYD037 TV Remote Control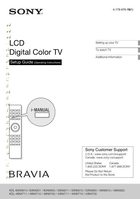 Originally Supplied with Models