Product Description:
REMOTE COMMANDER (RMT-D187A)
Model: RMTD187A
Part Number: 148700511
Associated Number: RMT-D187A
Catalogue No.: 62899

Battery Required :
AA Battery 2 pack
Customer Reviews
Works well, functions just as original and arrived promptly. Very pleased with the product and the company.
Exactly what I ordered and was pleased with urgency in which it was shipped.
SONY RMTD187A Remote Control
I purchased a used remote. It showed almost no wear. I am pleased with my purchase.
SONY RMTD187A Remote Control
The remote I ordered and received was for a *** DVD player. The original remote got lost in set up. The replacement remote isn't exactly like the original as it doesn't have the open/close button, but it works in all other areas.
SONY RMTD187A Remote Control
I use the remote as O did the ne =w one which was lost. it is identical.
Operating Manuals Available for SONY RMTD187A DVD Remote Control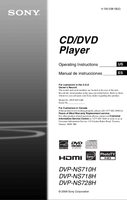 Originally Supplied with Models