Product Description:
MODEL: RMT-D144A,
PN: 147712711

Specifications
Model: RMTD144A
Part Number: 147712711
Associated Number: RMT-D144A
Catalogue No.: 9871
Battery Required :

AA Battery 2 pack
Customer Reviews
SONY RMTD144A Remote Control
I have always been a fan of Sony. The remote is used with the carousel DVD player in my home theater.
Operating Manual Available for SONY RMTD144A DVD Remote Control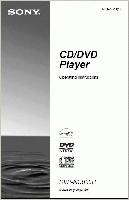 Originally Supplied with Models