Product Description:
The original SONY RMTAH101U Sound Bar Remote Control is in-stock and ships within 24 hours.
The original SONY RMTAH101U Sound Bar Remote Control carries a 60-Days Warranty.
Customer Reviews
It's great no programming needed batteries in and good to go
Identical replacement to the original. Put in the batteries and it worked right away.
It's perfect....it's not a want to be....it's Sony's real deal.....great prices
Thank you for my replacement it's exactly the same and it came in exactly when you said it'd be in! Thank you fast delivery and accurate item!! So satisfied mahalo!!
Exact replacement! Worked perfect!
Great product and fast shipping.
Great price, works perfectly, fast shipment. Thanks!!!
Works great, correct part, good service
Thank you Replacement Remotes for your help. The remote works great.....
Perfect. I placed some batteries in there and it worked like a charm.
Brand new exact replacement for the remote the puppy chewed. (It wasn't puppy's fault. We left the remote on the sofa instead of the table.) Just pop the batteries in and it worked. Big difference having the sound bar back. Fast shipping at a low price. Thanks Replacement Remotes!
Great original remote with all the functions!
SONY RMTAH101U Remote Control
Operating Manuals Available for SONY RMTAH101U Sound Bar Remote Control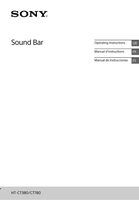 Originally Supplied with Models