Roll over image to zoom in
Click on image to zoom
Product Description:
Model: RM-Y104
P/N 146576511
REPLACED BY: RRY133A (NO PiP)
SONY TV REMOTE CONTROL
< b>
Model: RMY104
Part Number: 146576511
Associated Number: RM-Y104
Catalogue No.: 5867

The original SONY RMY104 TV Remote Control carries a 60-Days Warranty.
Customer Reviews
Guy remote
TOO MANY BUTTONS, TOO MUCH STUFF NEVER USED. CAN TELL IT'S A GUY REMOTE. IT'S FROM THE EARLY 90'S AND IT MAY HAVE CAUGHT UP NOW BUT IT WAS MADE TO EARLY. YOU CAN'T ACCESS ANYTHING ON THIS T.V. UNLESS YOU HAVE THIS REMOTE. CURSES!!! IT SHOULDN'T BE SO HARD.
Operating Manual Available for SONY RMY104 TV Remote Control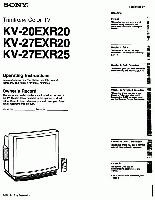 Originally Supplied with Models