Roll over image to zoom in
Click on image to zoom
Product Description:
Controls TV, DVD, VCR
& satellite/cable
Centrally located main buttons
Compatible with most
major brands
TV & DVD menu function
Picture-in-Picture function
Rubber keypad
Ergonomic design
Low-cost replacement for lost or broken units
3-min memory back-up

Codes not included on refurbished remotes
Model: RMV202
Part Number: RMV202
Associated Number: RM-V202
Catalogue No.: 3753

Battery Required :
AA Battery 2 pack
The original SONY RMV202 TV Remote Control carries a 60-Days Warranty.
Customer Reviews
SONY RMV202 Remote Control
Excellent service. Product was just what I needed.
SONY RMV202 Remote Control
its great I used it to remove the pip box that i turned on by accident with my cable/universal remote and was unable to remove it without this remote. Although it was not the PIP off button that took it away it was one of the other function buttons. But, have no fear this remote is capable of removing that pesky little box with the touch of 1 button. I am pretty sure it was the display button. GOOD LUCK!
Operating Manual Available for SONY RMV202 TV Remote Control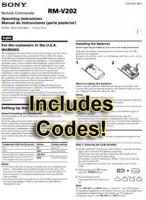 Originally Supplied with Models