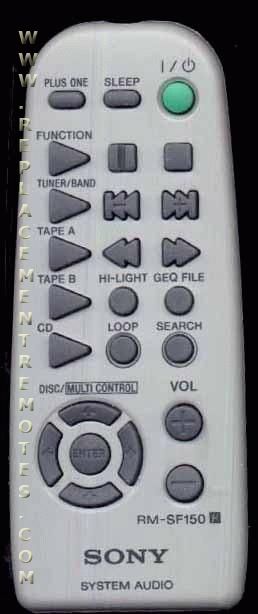 Roll over image to zoom in
Click on image to zoom
Product Description:
RMSF150
P/N 891763690
RMV302
Model: RMSF150
Part Number: 891763690
Associated Number: RM-SF150
Catalogue No.: 1282

Battery Required :
AA Battery 2 pack
SONY RMSF150 Audio Remote Control is guaranteed to work with the following Audio System models:
Originally supplied with Audio System models: SONY HCDF150, SONY HCDFR10, SONY HCDMC1, SONY MCHF150, SONY MCHMC1, SONY MHC150, SONY MHCF15, SONY MHCF150, SONY MHCMC1, SONY MHCML1 SONY MHMCMC1 SONY RMSF150
Compatible with Audio System models: SONY CVD100, SONY CVD1000, SONY FH50CD, SONY FHB50CD, SONY FHB7CD, SONY FHE626CD, SONY FHE727CD, SONY HCD1200, SONY HCDH1000, SONY HCDH1200 SONY HCDH1500 SONY HCDH160 SONY HCDH600 SONY HCDH66 SONY HCDH7 SONY MHC1200 SONY MHC1500 SONY MHC1500CD SONY RMD870 SONY SONMHCMC1
Customer Reviews
SONY RMSF150 Remote Control
I use the product daily. So far no issues with product. Exact replacement for my original that was destroyed by my dog.
SONY RMSF150 Remote Control
No issues with the remote I purchased, I use it in the home. The original was broken by accident & a new one was unavailable as the unit is over 5 years old.
Operating Manual Available for SONY RMSF150 Audio Remote Control
Originally Supplied with Models