Product Description:
REMOTE COMMANDER (RM-ADP111)
WILL REPLACE THE FOLLOWING AUDIO SYSTEM REMOTE CONTROL MODELS:
SONY RMADP072 (p/n: 148994911)
SONY RMADP089 (p/n: 149193911)
Model: RMADP111
Part Number: 149270811
Associated Number: RM-ADP111-1-492-708-11
Catalogue No.: 80273

Battery Required :
AA Battery 2 pack
The original SONY RMADP111 Audio Remote Control is in-stock and ships within 24 hours.
The original SONY RMADP111 Audio Remote Control carries a 60-Days Warranty.
SONY RMADP111 Audio Remote Control is guaranteed to work with the following Audio System models:
Originally supplied with Audio System models: SONY BDV-E2100,
Compatible with Audio System models: SONY BDV-E3100, SONY BDV-E385, SONY BDV-N790, SONY BDVE190, SONY BDVE390, SONY BDVE490, SONY BDVN790W, SONY BDVT39, SONY BDVT79, SONY HBD-E190 SONY HBD-E2100 SONY HBD-E385 SONY HBD-E490 SONY HBDE3100 SONY HBDE390 SONY HBDN790W SONY HBDT39 SONY HBDT79
Customer Reviews
Thank you for my remote it done everything I needed it to do
Works perfectly even works better than the one that came with the machine. I've saved your contact info in my bookmarks
THANK YOU FOR THE REPLAEMENT REMOTE IT WORK VERY WELL AND I THANK YALL VERY MUCH AND HOP I BE ABLE TO WORK WITH YALL SOON THANK YALL AND YALL HAVE A BLESS DAY
Worked perfectly.... Thank you
Identical to the original. Very speedy service. Too bad you don't have older Tempur-pedic adjustable bed base remotes...
Looks the same and works like the old one, what could be better? Very satisfied.
The remote worked perfectly right out of the box. It was a perfect match for the one that needed replacing. I'm very pleased.
Great replacement. Works like the original one.
Item did not arrive when promised, but did finally arrive and works great.
Operating Manual Available for SONY RMADP111 Audio Remote Control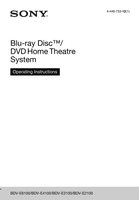 Originally Supplied with Models