Product Description:
Model: RMADP072
Part Number: 148994911
Associated Number: RM-ADP072
Catalogue No.: 78236

Battery Required :
AA Battery 2 pack
The original SONY RMADP072 Home Theater Remote Control carries a 60-Days Warranty.
SONY RMADP072 Home Theater Remote Control is guaranteed to work with the following Home Theater System models:
Originally supplied with Home Theater System models: SONY BDV-E385, SONY BDV-N790, SONY BDVE190, SONY BDVE390, SONY BDVE490, SONY BDVN790W, SONY BDVT39, SONY BDVT79, SONY HBD-E190, SONY HBD-E385 SONY HBD-E490 SONY HBDE390 SONY HBDN790W SONY HBDT39 SONY HBDT79
Compatible with Home Theater System models: SONY BDVE290, SONY BDVNF620, SONY HBDE3100, SONY HBDE580,
Customer Reviews
Excellent product and fast shipping!
Unit was received and is working fine.
I am very happy with the remote. It was a Sony and I figured it was a waste of money - but it works great. It took a little time to get the remote, but it was worth the wait I would definitely use Dan's again.
Delivered when expected. Remote works greet.
I had ordered this remote from Amazon and they sent the wrong one which I returned. I ordered this remote from Dan's and it is the correct remote, it is new and it works great. I will recommend Dan's Electronics to everyone. Thanks Dan's!
Easy to order, received it within a week and it works perfectly.
5 stars because it was a reasonable price (for a Sony product) and it worked. Shipped quickly as well. What else is there? BTW, the volume button on our old one died after four years and needed to be replaced since that is a fairly critical thing to control. $25 every four years? I can do that.
Seems like brand new. Perfect condition!
Thank you so much. We lost ours and couldn't find it for 3 months. Works perfectly.
fantastic transaction. product is awesome
Operating Manuals Available for SONY RMADP072 Home Theater Remote Control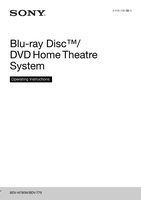 Originally Supplied with Models