Product Description:
SHARP LCD TV REMOTE CONTROL
Model: LCRC116
Part Number: 398GR10BESP08J
Associated Number: LC-RC1-16
Catalogue No.: 90605

Battery Required :
AAA Battery 2 pack
Guaranteed Compatible Universal :
Anderic RRU401
, Use code:
2737
(
click here for programming instructions
)
Dimensions:
1.90 x 6.90 x 0.90 (W x L x D, inches)
The original SHARP LCRC116 TV Remote Control is in-stock and ships within 24 hours.
The original SHARP LCRC116 TV Remote Control carries a 60-Days Warranty.
SHARP LCRC116 TV Remote Control is guaranteed to work with the following TV models:
Originally supplied with TV models: SHARP LC-32LB150U, SHARP LC-32LB480U, SHARP LC-40LB480U, SHARP LC32LB261U, SHARP LC32LB370, SHARP LC32LB370U, SHARP LC42LB150U, SHARP LC42LB261U, SHARP LC50LB150U, SHARP LC50LB261U SHARP LC50LB370 SHARP LC50LB370U
Compatible with TV models: SHARP LC-32LB150, SHARP LC-32LB261, SHARP LC-42LB150, SHARP LC-42LB261, SHARP LC-50LB150, SHARP LC-50LB261,
Customer Reviews
Nice to have a place like you have, thx ??
Exactly what I ordered. Great price & shipping
Product is just as advertised and works great - good price and quick delivery
Exact replacement. Works very well.
Excellent product super fast shipping highly recommend
My item is doing exactly what I ordered it for, I can't thank you enough.
I bought two of these remotes. The first remote I bought worked and looked great and I had no problems, so I bought a second. It also looked and worked perfect, but it rattled. A couple of the plastic clips that hold the remote together were broken causing the annoyance. The clips that hold the remote together are delicate and break VERY easily. I learned that on my old broken remote. I was able to get them out though. Would buy a third time, but I hope I won't have too.
Works perfectly! Fast shipping!
Shipped quickly, items just as described.
Just what I was looking for. Fast with no hassle. Couldn't be happier.
This product was wonderful. To be refurbished, it was packaged as a new remote, looks new and worked great. I didn't have to program it just put batteries in and I was set. Thank you so much.
This Sharp LCRC116 Remote Control was delivered on time and works as it should. Great product!
worked just as good as the original
The remote arrived very quickly and it works perfectly an exact replica of the one I had thank you very much I really appreciate it as the batteries that I had in it had corroded and ruined the other one
Thank you , we received our remote and works really well.
GOOD PRICE AND EXCELLENT CONDITIONS.
I was very happy with this remote. I didn't even have to program it. Just like the original one. Very good deal, for the price there are hard to find. I am very happy with this product.
Remote works just fine. Excellent service from Dan's . . . and fast delivery. Thank you!
Thanks, ill tell every body about your company! Merry Christmas
Works great. Was glad I could find a replacement .don't like the universal brands. Thank you so much.
It worked right away with my tv
The new one works just fine and looks just like the old one!! Successful endeavor!!
worked well as advertised - quick shipment very happy.. thanks
The site was easy to order from. The remote came in a timely manner. Put batteries in it and it worked. I would order again.
Fast delivery, works perfectly. I'm pleased with my purchase, highly recommend this vendor.
Thank goodness it works! I could not access the roku with the old one. Came in 3 days!
Original replacement remote, it works and I am happy with it.
Works exactly for what I need it to do. Very Pleased.
It worked just like you said it would and it arrived quickly. Thank you!
Came on time and worked perfectly 5/5 :)
Exactly what I originally purchased! Thank you
Brand new remote in perfect condition. Very competitive price and fast shipping.
Exact replacement for the remote that has been lost for years!
works like it's supposed to. what else can I say?!
The process to obtain this replacement remote control was a breeze from the time I placed the order on the website all the way through the speedy delivery of the product. The remote was well packaged and only required the installation of the batteries to have it up and running. It was great to find an actual replacement remote control rather than having to settle for a universal remote control replacement with more limited features. This was a true feature-for-feature replacement. It is always a gamble to order from a new company online but the service, delivery and product that ReplacementRemotes.com offered allows me to bookmark their site as a preferred go-to site for future needs.
Great remote and received so quickly!
Perfect product delivered exactly as ordered!
Operating Manuals Available for SHARP LCRC116 TV Remote Control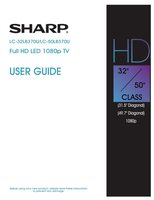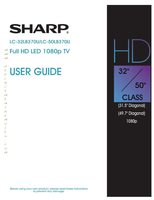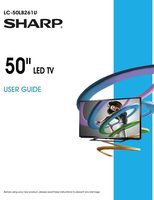 Originally Supplied with Models