Roll over image to zoom in
Click on image to zoom
Product Description:
STANDARD REMOTE CONTROL
Model: GA626WJSA
Part Number: RRMCGA626WJSA
Catalogue No.: 62110

Battery Required :
AA Battery 2 pack
Guaranteed Compatible Universal :
Anderic RRU401
, Use code:
2687
(
click here for programming instructions
)
Dimensions:
2.00 x 6.00 x 1.00 (W x L x D, inches)
The original SHARP GA626WJSA TV Remote Control is in-stock and ships within 24 hours.
The original SHARP GA626WJSA TV Remote Control carries a 60-Days Warranty.
SHARP GA626WJSA TV Remote Control is guaranteed to work with the following TV models:
Originally supplied with TV models: SHARP LC19SB24UW, SHARP LC19SB25UW, SHARP LC19SK24U, SHARP LC19SK24UW, SHARP LC19SK25U, SHARP LC19SK25UW,
Compatible with TV models: SHARP LC32A47L, SHARP LC32D44U, SHARP LC32D44V, SHARP LC32D47U, SHARP LC32D47UA, SHARP LC32D47UN, SHARP LC32D47UT, SHARP LC32D49U, SHARP LC32M44L, SHARP LC32M44U SHARP LC32SB21U SHARP LC32SB220U SHARP LC32SB23 SHARP LC32SB23U SHARP LC32SB27U SHARP LC32SB27UT SHARP LC37D44U SHARP LC37M44L SHARP LC37SB24U SHARP LC40D68UT SHARP LC40D78UN SHARP LC42SB45UN SHARP LC46D78UN SHARP LC46LE835U SHARP LC46SB54U SHARP LC46SB57U SHARP LC46SB57UN SHARP LC52D78UN SHARP LC52SB55U SHARP LC52SB57U SHARP LC52SB57UN SHARP LC60E78UN SHARP LC60E78UNA SHARP LC60LE600 SHARP LC60LE600U SHARP LC60LE6300U SHARP LC60LE6300UB SHARP LC60LE630U SHARP LC60LE845 SHARP LC70LE600U SHARP LCC3234U SHARP LCC3237U LG LCC3237UT SHARP LCC4067U SHARP LCC4067UN SHARP LCC4655U SHARP LCC46700UN SHARP LCC4677UN SHARP LCC5255U SHARP LCC52700UN SHARP LCC6077UN SHARP LCC6577UM
Customer Reviews
Received the remote sooner than expected. Since the TV was an older model, I didn't think I could find the right remote for the TV. It worked like a charm and I am really happy about that.
Great replacement, work exactly as advertised. Great seller.
Remote works perfectly with no additional requirements for original operation. Very happy to have a go-to source when desperately needed. completely satisfied with the service provided by this company. Thanks for your promptness!
Operating Manuals Available for SHARP GA626WJSA TV Remote Control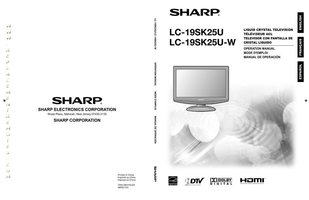 Originally Supplied with Models