Product Description:
SHARP LCD TV REMOTE CONTROL
Associated Part Numbers: 098003063200 9LE98003063200 9KT60GJW47A221 9JY600153G00886G 9JY640147040000
Specifications
Model: GJ221
Part Number: 9JY640147040000R
Associated Number: 9JY640147040000
Catalogue No.: 67546
Battery Required :

AAA Battery 2 pack

Guaranteed Compatible Universal : Anderic RRU401

, Use code:

2687

(

click here for programming instructions

)

Frequency Type :

IR

Dimensions:

2.00 x 6.00 x 1.00 (W x L x D, inches)
The SHARP GJ221 TV Remote Control is originally supplied with TV models: SHARP LBT422U, SHARP LBT462U, SHARP LC-32LE440, SHARP LC-43LE551, SHARP LC26SV490, SHARP LC26SV490U, SHARP LC32A29L, SHARP LC32D59, SHARP LC32D59U, SHARP LC32LE440U SHARP LC32LE450 SHARP LC32LE450U SHARP LC32LE451 SHARP LC32LE451U SHARP LC32LE551 SHARP LC32LE551U SHARP LC32SV29 SHARP LC32SV29U SHARP LC39LE440 SHARP LC39LE440U SHARP LC39LE551 SHARP LC39LE551U SHARP LC40LE550 SHARP LC40LE550U SHARP LC42A49L SHARP LC42D69 SHARP LC42D69U SHARP LC42SV49 SHARP LC42SV49U SHARP LC43LE551U SHARP LC46SV49U SHARP LC46SV50 SHARP LC46SV50U SHARP LC48LE551 SHARP LC48LE551U SHARP LC50LE440 SHARP LC50LE440U
The SHARP GJ221 TV Remote Control is compatible with TV models: SHARP LC32SV40U, SHARP LC42SV50U,
Customer Reviews
It's awesome it worked right away didn't have any problems using it thanks again
Exactly what I ordered. Worked right out of the package.
Quick service...thank you!
THIS REMOTE WAS PERFECT. IT WAS NICE TO FIND THE ORIGINAL.
Worked perfectly right out of the box. I supplied only batteries.
SHARP GJ221 Remote Control
old remote died exact replacement put in batteries; worked right
Operating Manual Available for SHARP GJ221 TV Remote Control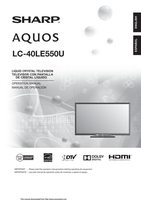 Originally Supplied with Models