Product Description:
Sceptre DVD + Sound Bar Combo Tv and All Sceptre Combo Dvd + Sound Bar Combo Lcd Led Tv
Specifications
Model: E325BV
Part Number: 142022370010C
Catalogue No.: 83084
Battery Required :

AAA Battery 2 pack

Frequency Type :

IR

Dimensions:

2.00 x 6.00 x 1.00 (W x L x D, inches)
The Sceptre E325BV TV Remote Control is originally supplied with TV models: Sceptre E165BV-MQ, Sceptre E195BV-SMQR, Sceptre E205BV-SMQC, Sceptre E205BV-SMQCC, Sceptre E246BV-FMQC, Sceptre E248BV-FMQR, Sceptre E249BD-FMQC, Sceptre E322BV-HDR, Sceptre E325, Sceptre E325BV-HDR Sceptre E325BV-MQC Sceptre E325e328bvfmd Sceptre E325PD-HDR Sceptre E325PV-HDR Sceptre E325UV-HDR Sceptre E325WD-HDR Sceptre E325WV-HDR Sceptre E485BV-FMQR Sceptre E505BV-FMQK Sceptre E505BV-FMQR Sceptre E555BV-FMQC Sceptre E555BV-FMQR Sceptre E558BV-FMQR Sceptre X322BV Sceptre X322BV-MQC Sceptre X322BV-MQCC Sceptre X322BV-MQR Sceptre X322BVFHDR Sceptre X322PV-HDR Sceptre X322UV-HDR Sceptre X322WV-HDR Sceptre X325BV-FMQC Sceptre X325BV-FMQR Sceptre X328BV-HDR Sceptre X405BV-FHDR Sceptre X405BV-FMQC Sceptre X405BV-FMQCC Sceptre X405BV-FMQR Sceptre X415BV-FMQR Sceptre X505BV-FMDR Sceptre X505BV-FMQC Sceptre X505BV-FMQCC Sceptre X505BV-FMQR
The Sceptre E325BV TV Remote Control is compatible with TV models: Sceptre E165BDHD, Sceptre E165BV-HD, Sceptre E195BDSHD, Sceptre E195BV-SHDC, Sceptre E195BV-SHDE, Sceptre E195BV-SR, Sceptre E195BVSHD, Sceptre E240_FHD, Sceptre E240BCFHD, Sceptre E243BDFHD Sceptre E243PVFHD Sceptre E245BD-FHDR Sceptre E245BDFHD Sceptre E245BDFHDU Sceptre E245BVFHD Sceptre E245PD-FHDR Sceptre E245RD-FHDR Sceptre E245WD-FHDR Sceptre E246BDFHD Sceptre E325BD-HDC Sceptre E325BDHD Sceptre E325BDHDW Sceptre E325BV-FMD Sceptre E325BVFMDU Sceptre E325BVHDC Sceptre E325BVHDH Sceptre E325E328BV Sceptre E326 Sceptre E328bdhdc Sceptre E328BVFMDC Sceptre E478BV-FMDU Sceptre E505BV-FMQC Sceptre E505BV-FMQKC Sceptre U405CV-UMS Sceptre U415CV-UMS Sceptre U435CV-UMC Sceptre U438CV-UMC Sceptre U500CV-UMK Sceptre U500CV-UMR Sceptre U505CV-UMC Sceptre U508CV-UMC Sceptre U508CV-UMK Sceptre U508CV-UMKC Sceptre U508CV-UMKR Sceptre U515CV-UMS Sceptre U550CV-UM08R Sceptre U550CV-UMAC Sceptre U550CV-UMC Sceptre U550CV-UMR Sceptre U550CV-UMS Sceptre U558CV-UMC Sceptre U558CV-UMR Sceptre U650CV-UMC Sceptre U650CV-UMK Sceptre U650CV-UMR Sceptre U650CV-UMS Sceptre U658CV-UMC Sceptre U658CV-UMR Sceptre X322bvhdr Sceptre X322WV-MQR Sceptre X325BVFHD Sceptre X325BVFHDU Sceptre X325bvfmdr Sceptre X328BVFHD HITACHI X40 Sceptre X405BV-FMDU Sceptre X405bvfhd Sceptre X409BV-FHDR Sceptre X425BV-FHD Sceptre X425BVFHD3 Sceptre X505BV-FMQRR
Customer Reviews
Just like the one that came with the TV except that the screen printing for the button labels was better than the original.
Thank you for my new remote. Love it
Perfect replacement. Great price.
Operating Manuals Available for Sceptre E325BV TV Remote Control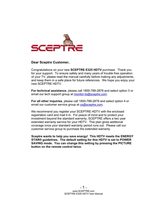 Originally Supplied with Models