Roll over image to zoom in
Click on image to zoom
Product Description:
SCEPTRE TV WITH ROKU
Specifications
Model: 142021270009C
Part Number: 142021270009C
Catalogue No.: 92480
Battery Required :

AAA Battery 2 pack

Frequency Type :

IR

Dimensions:

2.00 x 6.00 x 1.00 (W x L x D, inches)
The Sceptre 142021270009C TV Remote Control is originally supplied with TV models: Sceptre E325BV-FMD, Sceptre E485BV-FMQR, Sceptre E505BV-FMQC, Sceptre U405CV-UMS, Sceptre U415CV-UMS, Sceptre U435CV-UMC, Sceptre U438CV-UMC, Sceptre U500CV-UMK, Sceptre U500CV-UMR, Sceptre U505CV-UMC Sceptre U508CV-UMC Sceptre U508CV-UMK Sceptre U508CV-UMKC Sceptre U508CV-UMKR Sceptre U515CV-UMS Sceptre U550CV-UM08R Sceptre U550CV-UMAC Sceptre U550CV-UMC Sceptre U550CV-UMR Sceptre U550CV-UMS Sceptre U558CV-UMC Sceptre U558CV-UMR Sceptre U650CV-UMC Sceptre U650CV-UMK Sceptre U650CV-UMR Sceptre U650CV-UMS Sceptre U658CV-UMC Sceptre U658CV-UMR Sceptre X322bvhdr Sceptre X325bvfmdr Sceptre X405BV-FMDU Sceptre X405BV-FMQR Sceptre X409BV-FHDR Sceptre X505BV-FMDR Sceptre X505BV-FMQRR
The Sceptre 142021270009C TV Remote Control is compatible with TV models: Sceptre E195BVSHD, Sceptre E245BVFHD, Sceptre E245PV-FHDR, Sceptre E245RV-FHDR, Sceptre E245WV-FHDR, Sceptre E248BV-FHD, Sceptre E325BV-HDU, Sceptre E325BV-MDC, Sceptre E325BVFMDU, Sceptre E325BVHDC Sceptre E328-FMDU Sceptre E328BV-HDC Sceptre E328BV-MDC Sceptre E328BVFMDC Sceptre E475bvfmdu Sceptre E478BV-FMDU Sceptre X405BV-FMD
Customer Reviews
Great remote. Added batteries and is working flawlessly! Zero complaints.
Replacement is same as original; works well and easy to use. Pleasantly surprised that it worked immediately without having to go through codes.
Operating Manual Available for Sceptre 142021270009C TV Remote Control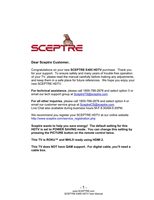 Originally Supplied with Models