Roll over image to zoom in
Click on image to zoom
Product Description:
Model: GXEA
Part Number: GXEA
Catalogue No.: 65354

Battery Required :
AAA Battery 2 pack
The original SANYO GXEA TV Remote Control carries a 60-Days Warranty.
SANYO GXEA TV Remote Control is guaranteed to work with the following TV models:
Originally supplied with TV models: SANYO DP40142, SANYO DP42410, SANYO DP42840, SANYO DP52440, SANYO LCD19E30, SANYO LCD26E30, SANYO LCD32E30, SANYO LCD32E30A, SANYO LCD42E30, SANYO LCD42E30F SANYO LCD42E30FA
Compatible with TV models: SANYO DP46142, SANYO DP55441,
Customer Reviews
happy, happy happy! 2nd remote I ordered from you and no hassle to work put in batteries and off I go for a good price.........Thank you and customer service is awesome!
I'm rate as ten star. From Mark Oliver.
Correct remote control first time. Works like the original did when new. Price was very good
works great - Thank You. !
As advertised, the remote is identical to my original one. Works very well and I am quite satisfied with my purchase.
The item I received was in new condition. It works perfectly. Fast friendly service at a fair price.
Exact replacement. Super fast delivery. No programming was needed, just put in the batteries and I'm up and running. Thanks
Works great. Almost as good as original remote did
Operating Manuals Available for SANYO GXEA TV Remote Control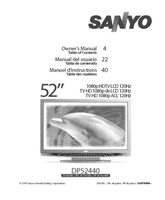 Originally Supplied with Models