Product Description:
PCB ASSEMBLY P-ONECONNECT
Includes: Samsung One Connect
Model: BN9644627A
Part Number: BN9644627A
Catalogue No.: 202848

Dimensions:
12.00 x 6.00 x 3.00 (W x L x D, inches)
SAMSUNG BN9644627A One Connect Jackpack is guaranteed to work with the following TV models:
Originally supplied with TV models: SAMSUNG QN75Q7FAMFXZA,
Customer Reviews
This was the problem with our 4 year old Samsung 4K 75" We were lucky to find your store. This one connect box was a great idea but poorly designed. This box is extremely hot when the TV is in use . I'm sure they could of built it with vent holes or a small fan such as a CPU fan used on a computer processor. Your store was great for support . I had a representative from your firm who helped to make sure a got the right part number for my system.
Operating Manual Available for SAMSUNG BN9644627A One Connect Jackpack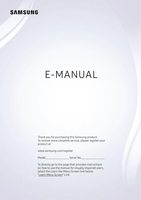 Originally Supplied with Models