Product Description:
REMOCON-TV;2019 TV,SAMSUNG,44KEY,3.0V,US
Specifications
Model: BN5901315A for 2019
Part Number: BN5901315A
Associated Number: BN59-01315A
Catalogue No.: 201092
Battery Required :

AAA Battery 2 pack

Guaranteed Compatible Universal : Anderic RRU401

, Use code:

2661

(

click here for programming instructions

)

Frequency Type :

IR

Dimensions:

2.00 x 6.00 x 1.00 (W x L x D, inches)
The SAMSUNG BN5901315A for 2019 TV Remote Control is originally supplied with TV models: SAMSUNG UN43RU7100FXZA, SAMSUNG UN43RU7200FXZA, SAMSUNG UN43TU7000BXZA, SAMSUNG UN50RU7100FXZA, SAMSUNG UN50RU710DFXZA, SAMSUNG UN50RU7200FXZA, SAMSUNG UN50TU7000BXZA, SAMSUNG UN55RU7100FXZA, SAMSUNG UN55RU7200FXZA, SAMSUNG UN55RU7300FXZA SAMSUNG UN55RU730DFXZA SAMSUNG UN55TU7000BXZA SAMSUNG UN58RU7100FXZA SAMSUNG UN58RU710DFXZA SAMSUNG UN65RU7100FXZA SAMSUNG UN65RU710DFXZA SAMSUNG UN65RU7200FXZA SAMSUNG UN65RU7300FXZA SAMSUNG UN65RU730DFXZA SAMSUNG UN65TU7000BXZA SAMSUNG UN70TU7000BXZA SAMSUNG UN75RU7100FXZA SAMSUNG UN75RU710DFXZA SAMSUNG UN75RU7200FXZA SAMSUNG UN75TU7000BXZA
The SAMSUNG BN5901315A for 2019 TV Remote Control is compatible with TV models: SAMSUNG UN43TU7000FXZA, SAMSUNG UN43TU700DFXZA, SAMSUNG UN50TU7000FXZA, SAMSUNG UN50TU700DFXZA, SAMSUNG UN55TU7000FXZA, SAMSUNG UN55TU700DFXZA, SAMSUNG UN58TU7000FXZA, SAMSUNG UN58TU700DFXZA, SAMSUNG UN65TU7000FXZA, SAMSUNG UN65TU700DFXZA SAMSUNG UN70TU7000FXZA SAMSUNG UN70TU700DBXZA SAMSUNG UN70TU700DFXZA SAMSUNG UN75TU7000FXZA SAMSUNG UN75TU700DFXZA SAMSUNG UN82TU6950FXZA SAMSUNG UN82TU700DFXZA
Customer Reviews
got there quick and was better then prior remote.
Got it right on time and it worked great! Wonderful, quick, correct service.
Received it very quickly after placing my order.
Worked fine. Great value.
works perfect and is just about an exact match.
I made a good choice with this Company. I bought two remotes from this company and the remotes work excellent. Tiffany Utley
Looks and works just like the original.
It's the greatest replacement remote control in the history of replacement remote controls. If my daughter drops this on into a glass of water I'll definitely come back to Dan's for another one.
Excellent service and exactly what I needed. Thank you.
Looks and works just like the one that came with the TV.
These remotes are exactly as shown. They work with our Samsung smart TV with no problems. The price was really good and even though they were back ordered the company kept me notified of where they were in the process regularly by email. I would definitely buy from this company again.
Operating Manual Available for SAMSUNG BN5901315A for 2019 TV Remote Control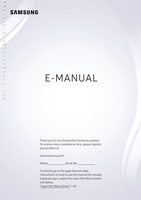 Originally Supplied with Models