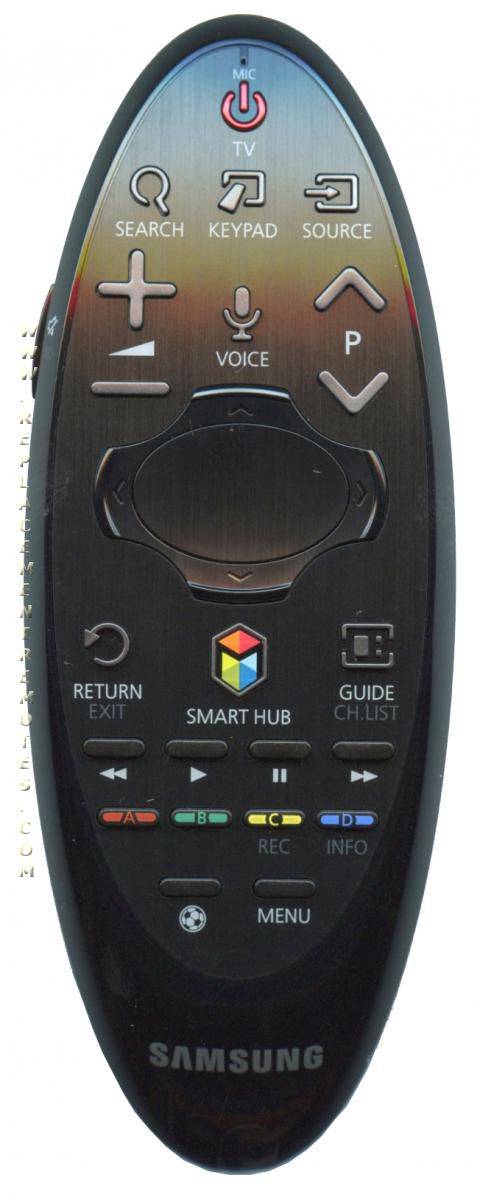 Roll over image to zoom in
Click on image to zoom
Product Description:
ORIGINAL SAMSUNG REPLACEMENT

2013 TV'S
Specifications
Model: BN5901182B for 2013
Part Number: BN5901182B
Associated Number: BN59-01182B
Catalogue No.: 80970
Battery Required :

AA Battery 2 pack

Dimensions:

2.00 x 6.00 x 1.00 (W x L x D, inches)
The SAMSUNG BN5901182B for 2013 TV Remote Control is originally supplied with TV models: SAMSUNG UN40HU6900FXZA, SAMSUNG UN40HU6950FXZA, SAMSUNG UN40HU7000FXZA, SAMSUNG UN50HU6900FXZA, SAMSUNG UN50HU6950FXZA, SAMSUNG UN55HU6950FXZA, SAMSUNG UN55HU7200FXZA, SAMSUNG UN55HU7250FXZA, SAMSUNG UN65HU7200FXZA, SAMSUNG UN65HU7250FXZA
The SAMSUNG BN5901182B for 2013 TV Remote Control is compatible with TV models: SAMSUNG KN55S9CAF, SAMSUNG KN55S9CAFXZA, SAMSUNG UN40F6400, SAMSUNG UN46F6400, SAMSUNG UN46F6800, SAMSUNG UN46F7100, SAMSUNG UN46F7450, SAMSUNG UN46F7450AFXZA, SAMSUNG UN46F7500, SAMSUNG UN46F7500AF SAMSUNG UN50F6400 SAMSUNG UN50F6800 SAMSUNG UN55F6400 SAMSUNG UN55F6800 SAMSUNG UN55F7050A SAMSUNG UN55F7050AFXZA SAMSUNG UN55F7100 SAMSUNG UN55F7100AFXZA SAMSUNG UN55F7450 SAMSUNG UN55F7450AF SAMSUNG UN55F7450AFXZA SAMSUNG UN55F9000 SAMSUNG UN55F9000AF SAMSUNG UN60F6400 SAMSUNG UN60F7050A SAMSUNG UN60F7050AFXZA SAMSUNG UN60F7100 SAMSUNG UN60F7100A SAMSUNG UN60F7100AFXZAHH01 SAMSUNG UN60F7450 SAMSUNG UN60F7450AF SAMSUNG UN60F7450AFXZA SAMSUNG UN60F7500 SAMSUNG UN60F7500AF SAMSUNG UN60F8000 SAMSUNG UN65F6400 SAMSUNG UN65F7050A SAMSUNG UN65F7050AFXZA SAMSUNG UN65F7100 SAMSUNG UN65F7100A SAMSUNG UN65F9000 SAMSUNG UN65F9000AF SAMSUNG UN75F6400 SAMSUNG UN75F7100A SAMSUNG UN85S9AF SAMSUNG UN85S9VF
Customer Reviews
Works great with my 2013 Samsung Smart TV
It worked perfectly as advertised. It saved mysmart TV from replacemnt
Very happy with this replacement!
Easy to use, better than the original.
works great and is a good replacement for my old remote control.
Originally Supplied with Models