Product Description:
The Samsung BN59-00690A remote control allows easy operation for your compatible Samsung model. The BN59-00690A is perfect if you lose the one that was included with your unit or if you're in need of an additional remote. The BN59-00690A controls all basic functions of the unit.Batteries Sold Separately
Model: BN5900690A
Part Number: BN5900690A
Associated Number: BN59-00690A
Catalogue No.: 62774

Battery Required :
AAA Battery 2 pack
Guaranteed Compatible Universal :
Anderic RRU401
, Use code:
2753,2661
(
click here for programming instructions
)
The original SAMSUNG BN5900690A TV Remote Control carries a 60-Days Warranty.
SAMSUNG BN5900690A TV Remote Control is guaranteed to work with the following TV models:
Originally supplied with TV models: SAMSUNG HLR5668WX/XAA, SAMSUNG LN32A300J1DXZACN01, SAMSUNG LN32A450C1DXZA, SAMSUNG LN32A550P3R, SAMSUNG LN32A550P3RXRL, SAMSUNG LN32A550P3RXSR, SAMSUNG LN32A550P3RXZL, SAMSUNG LN32A550P3RXZP, SAMSUNG LN32A610A3R, SAMSUNG LN32A610A3RXSR SAMSUNG LN32A610A3RXZB SAMSUNG LN32A610A3RXZP SAMSUNG LN37A550 SAMSUNG LN40A550P3RXRL SAMSUNG LN40A550P3RXSR SAMSUNG LN40A550P3RXZB SAMSUNG LN40A550P3RXZD SAMSUNG LN40A550P3RXZL SAMSUNG LN40A550P3RXZP SAMSUNG LN40A610A1R SAMSUNG LN40A610A1RXZD SAMSUNG LN40A610A3R SAMSUNG LN40A610A3RXSR SAMSUNG LN40A610A3RXZD SAMSUNG LN40A610A3RXZL SAMSUNG LN40A610A3RXZP SAMSUNG LN40A650A1F SAMSUNG LN40A650A1FXZD SAMSUNG LN40A650A2R SAMSUNG LN40A650A2RXZD SAMSUNG LN46A550P3R SAMSUNG LN46A550P3RXRL SAMSUNG LN46A550P3RXSR SAMSUNG LN46A550P3RXZD SAMSUNG LN46A550P3RXZL SAMSUNG LN46A550P3RXZP SAMSUNG LN46A610A3R SAMSUNG LN46A610A3RXSR SAMSUNG LN46A610A3RXZD SAMSUNG LN46A610A3RXZL SAMSUNG LN46A610A3RXZP SAMSUNG LN46A650A1F SAMSUNG LN46A650A1FXZD SAMSUNG LN46A650A2R SAMSUNG LN46A650A2RXZD SAMSUNG LN52A550 SAMSUNG LN52A550P3F SAMSUNG LN52A610A3R SAMSUNG LN52A610A3RXRL SAMSUNG LN52A610A3RXSR SAMSUNG LN52A610A3RXZL SAMSUNG LN52A610A3RXZP SAMSUNG LN52A650A1F SAMSUNG LN52A650A1FXZD SAMSUNG LN52A650A2R SAMSUNG LN52A650A2RXZD SAMSUNG PL50A550 SAMSUNG PL50A550S1 SAMSUNG PL50A550S1XRL SAMSUNG PL50A550S1XSR SAMSUNG PL50A550S1XZP SAMSUNG PL50A650 SAMSUNG PN58A550S1FXZASL01 SAMSUNG PN58A550S1FXZC SAMSUNG SP52Q7HR
Compatible with TV models: SAMSUNG CL29Z30HS, SAMSUNG CMP6200S, SAMSUNG LN32A330J1DXZASS06, SAMSUNG LN32A650A1F, SAMSUNG LN32A650A1FXZA, SAMSUNG LN40A550P3FXZACK12, SAMSUNG LN40A650A1FXZA, SAMSUNG LN40A750R1FXZA, SAMSUNG LN46A580P6FXZASQ01, SAMSUNG LN46A650A1FXZA SAMSUNG LN46A650A1FXZC SAMSUNG LN46A650A1FXZX SAMSUNG LN46A750R1FXZA SAMSUNG LN46A750R1FXZASS02 SAMSUNG LN46A850 SAMSUNG LN46A850S1FXZA SAMSUNG LN46A860S2F SAMSUNG LN52A550P3FXZASQ01 SAMSUNG LN52A630M1FXZASQ01 SAMSUNG LN52A650A SAMSUNG LN52A650A1FXZA SAMSUNG LN52A650A1FXZC SAMSUNG LN52A650A1FXZX SAMSUNG LN52A650A1H SAMSUNG LN52A860S2F SAMSUNG PL50A650T1F SAMSUNG PL50A650T1FXZX SAMSUNG PL58A550S1FXZX SAMSUNG PL58A650T1F SAMSUNG PL58A650T1FXRL SAMSUNG PL58A650T1FXZP SAMSUNG PL58A650T1FXZX SAMSUNG PL63A650 SAMSUNG PN50A650 SAMSUNG PN50A650T SAMSUNG PN50A650T1F SAMSUNG PN50A650T1FXZA SAMSUNG PN50A650T1FXZC SAMSUNG PN58A650 SAMSUNG PN58A650T1F SAMSUNG PN58A650T1FXZA SAMSUNG PN58A650T1FXZC SAMSUNG PN63A650 SAMSUNG PN63A650T1F SAMSUNG PN63A650T1FXZA SAMSUNG PN63A650T1FXZC SAMSUNG SP54T8HX SAMSUNG SP61L3HX SAMSUNG SVD1118
Operating Manuals Available for SAMSUNG BN5900690A TV Remote Control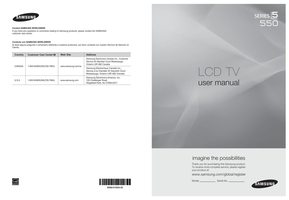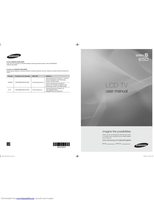 Originally Supplied with Models