Roll over image to zoom in
Click on image to zoom
Product Description:
MODEL: AK5900021C, PN: 00021C
SAMSUNG DVD/VCR REMOTE CONTROL, Remote Control, REMOTE CONTROL
, This remote control works with a wide range of Samsung DVD players.This is a consumer replaceable part.Batteries Sold Separately.Please confirm that your model is compatible with this part by clicking on the link below.
Model: 00021C
Part Number: AA5900021C
Associated Number: AK59-00021C
Catalogue No.: 9054

Battery Required :
AAA Battery 2 pack
SAMSUNG 00021C DVD Remote Control is guaranteed to work with the following DVD Player models:
Originally supplied with DVD Player models: SAMSUNG DVDV4600, SAMSUNG DVDV4600A, SAMSUNG DVDV4600A/XAA, SAMSUNG DVDV4600C, SAMSUNG DVDV4600C/XAA, SAMSUNG DVDV5500, SAMSUNG DVDV5500/DVD, SAMSUNG DVDV5500/XAA, SAMSUNG DVDV6500, SAMSUNG MW7695G SAMSUNG MW7695GS
Compatible with DVD Player models: SAMSUNG DVDV4500, SAMSUNG DVDV4500/VCR, SAMSUNG DVDV4600/XAA, SAMSUNG DVDV4600A/VCR, SAMSUNG SHR2080N, SAMSUNG SHR2080N250, SAMSUNG SHR2082N, SAMSUNG SHR2082N/XAA, SAMSUNG SHR2082N250, SAMSUNG SHR2160N SAMSUNG SHR2160N250 SAMSUNG SHR2160P SAMSUNG SHR2162N SAMSUNG SHR2162N/XAA SAMSUNG SHR2162N250 SAMSUNG SHR2162P SAMSUNG SHR2162P500 SAMSUNG SHR2162P750 SAMSUNG SHR5042DN SAMSUNG SHR5042N SAMSUNG SHR5080N SAMSUNG SHR5082N SAMSUNG SHR5160N SAMSUNG SHR5162N
Customer Reviews
SAMSUNG 00021C Remote Control
For an old VHS Player found at ***. My old vhs wore out and I have a ton of old tapes. The unit worked fine manually but I wanted a remote. This replacement works great and is fully functional.
Operating Manuals Available for SAMSUNG 00021C DVD Remote Control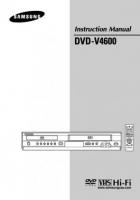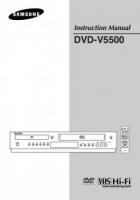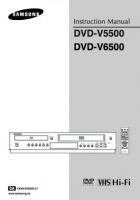 Originally Supplied with Models