Roll over image to zoom in
Click on image to zoom
Product Description:
MODEL: 00021B
DVD4600, DVDV4600 Remote Control
Model: 00021B
Part Number: AK5900021B
Associated Number: AK59-00021B
Catalogue No.: 9055

Battery Required :
AAA Battery 2 pack
Dimensions:
2.00 x 6.00 x 1.00 (W x L x D, inches)
SAMSUNG 00021B DVD Remote Control is guaranteed to work with the following DVD Player models:
Originally supplied with DVD Player models: SAMSUNG DVDV4500, SAMSUNG DVDV4500/VCR, SAMSUNG DVDV4600, SAMSUNG DVDV4600/XAA, SAMSUNG DVDV4600A/VCR,
Compatible with DVD Player models: SAMSUNG DVDV4600A, SAMSUNG DVDV4600A/XAA, SAMSUNG DVDV4600C, SAMSUNG DVDV4600C/XAA, SAMSUNG DVDV5500, SAMSUNG DVDV5500/DVD, SAMSUNG DVDV5500/XAA, SAMSUNG DVDV6500, SAMSUNG MW7695G, SAMSUNG MW7695GS
Customer Reviews
SAMSUNG 00021B Remote Control
Used the remote to control dual system. I would recommend to any one that need a replacement remote.
SAMSUNG 00021B Remote Control
Looked like new and worked perfectly.
Operating Manual Available for SAMSUNG 00021B DVD Remote Control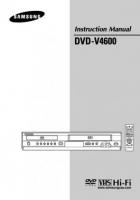 Originally Supplied with Models