Product Description:
The original SAMSUNG AA5900784B TV Remote Control carries a 60-Days Warranty.
SAMSUNG AA5900784B TV Remote Control is guaranteed to work with the following TV models:
Originally supplied with TV models: SAMSUNG UN32F6300, SAMSUNG UN32F6300AF, SAMSUNG UN32F6300AFXZA, SAMSUNG UN46F6300, SAMSUNG UN46F6300AF, SAMSUNG UN46F6300AFXZA, SAMSUNG UN50F6300, SAMSUNG UN50F6300AF, SAMSUNG UN50F6300AFXZA,
Compatible with TV models: SAMSUNG UN32F6350, SAMSUNG UN32F6350AFXZA, SAMSUNG UN40F6300, SAMSUNG UN40F6300AFXZA, SAMSUNG UN40F6350, SAMSUNG UN40F6350AFXZA, SAMSUNG UN46F6350, SAMSUNG UN46F6350AFXZA, SAMSUNG UN50F6350, SAMSUNG UN50F6350AFXZA SAMSUNG UN55F6300 SAMSUNG UN55F6300AFXZA SAMSUNG UN55F6350 SAMSUNG UN55F6350AFXZA SAMSUNG UN60F6300 SAMSUNG UN60F6300AFXZA SAMSUNG UN60F6300AFXZAHS01 SAMSUNG UN60F6350 SAMSUNG UN60F6350AFXZA SAMSUNG UN65F6300 SAMSUNG UN65F6300AFXZA SAMSUNG UN65F6350 SAMSUNG UN65F6350AFXZA
Customer Reviews
It appears to be exactly what I required and works fine .
Just like the original that came with my tv. I'm loving it!!!
New remote was reasonably priced and shipped quickly
Remote arrived in Canada quickly and works just like my original.
exactly what i needed after my dog ate the first remote, such a relief
Very pleased with the Quality and Delivery. Everything went as expected! Grrrrreat!!
it was exact replacement thank you
This is remote awesome and great working thanks..
Great product..extremely quick delivery to Canada.
SAMSUNG AA5900784B Remote Control
remote is working excellent
SAMSUNG AA5900784B Remote Control
SAMSUNG AA5900784B Remote Control
Operating Manual Available for SAMSUNG AA5900784B TV Remote Control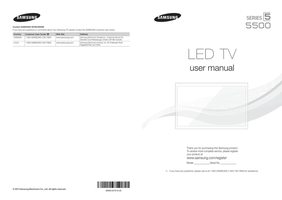 Originally Supplied with Models