Product Description:
REMOCON
Model: AA5900637A
Part Number: AA5900637A
Associated Number: AA59-00637A
Catalogue No.: 75623

Battery Required :
AAA Battery 2 pack
Guaranteed Compatible Universal :
Anderic RRU401
, Use code:
2661
(
click here for programming instructions
)
Dimensions:
2.00 x 6.00 x 1.00 (W x L x D, inches)
The original SAMSUNG AA5900637A TV Remote Control is in-stock and ships within 24 hours.
The original SAMSUNG AA5900637A TV Remote Control carries a 60-Days Warranty.
SAMSUNG AA5900637A TV Remote Control is guaranteed to work with the following TV models:
Originally supplied with TV models: SAMSUNG PN51E8000, SAMSUNG PN51E8000GF, SAMSUNG PN51E8000GFXZA, SAMSUNG PN60E8000, SAMSUNG PN60E8000GF, SAMSUNG PN60E8000GFXZA, SAMSUNG PN64E8000GF, SAMSUNG PN64E8000GFXZA, SAMSUNG TM1250B, SAMSUNG TM1290 SAMSUNG UN46ES7500 SAMSUNG UN46ES7500F SAMSUNG UN46ES7500FXZA SAMSUNG UN46ES8000 SAMSUNG UN46ES8000FXZA SAMSUNG UN55ES7500 SAMSUNG UN55ES7500F SAMSUNG UN55ES7500FXZA SAMSUNG UN55ES7550 SAMSUNG UN55ES7550F SAMSUNG UN55ES7550FXZA SAMSUNG UN55ES8000 SAMSUNG UN55ES8000FXZA SAMSUNG UN60ES7500 SAMSUNG UN60ES7500F SAMSUNG UN60ES7500FXZA SAMSUNG UN60ES8000 SAMSUNG UN60ES8000FXZA SAMSUNG UN65ES8000 SAMSUNG UN65ES8000FXZA SAMSUNG UN75ES9000 SAMSUNG UN75ES9000F SAMSUNG UN75ES9000FXZA
Compatible with TV models: SAMSUNG PN64E8000,
Customer Reviews
Just like facto original. Great product
Have only had it for 3 days and so far so good. The brand and model is the same as the original. Will hope it works for years.
Operating Manuals Available for SAMSUNG AA5900637A TV Remote Control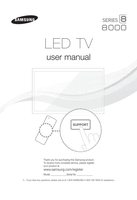 Originally Supplied with Models