Product Description:
REMOTE CONTROL WITHOUT VOICE CONTROL. If you would like the voice control model, please use BN59-01292A. Works with all 6-Series and 7-Series smart TVs.

BN59-01260A: Does not support Voice Interaction.
Specifications
Model: BN5901260A
Part Number: BN5901260A
Associated Number: A3LRMCSPK1AP2
Catalogue No.: 90643
Battery Required :

AA Battery 2 pack

Frequency Type :

IR + RF

FCC ID :

A3LRMCSPK1AP2

Dimensions:

2.00 x 6.00 x 1.00 (W x L x D, inches)
Customer Reviews
Perfect replacement programed itself with no problems
Works as well as my original
Works great (after I called customer service and they helped me pair it!!) - speedy delivery, couldn't be happier!!
I purchased this item with a little bit of doubt because it is a refurbished.However, I have to say it is so far so good.
Got it refurbished and works just like brand new. No problem getting it synced to my TV
was in perfect condition and synched to the TV quickly
Works great. Some minor blemishes from being refurbished but was expected and can't beat the price.
Very satisfied. Will always recommend ebay Vs Amazon. Way cheaper !
great price works perfect
Producto llego a Tiempo y en excelente condicion
Excelente servicio llego muy pronto y funciona al ?? muy recomendable comprar aquí ????????????
Worked great until the dog got ahold of it.Ordering another :)
Perfect... Very Pleased !!!! A+++++
Good Product amd in good condition
Arrived quickly. Work great
works great, just what i needed
Works perfect and was delivered on time.
Works great! Shipped fast
I got exactly what I ordered, and it worked right away, no issue. Only cost about $20, and arrived quickly. Saved me a lot of hassle after my dog ate the original remote.
The remote arrived quickly, and in excellent condition. It works perfectly, as if it's a brand new remote, and I couldn't be happier with it.
Remote works perfectly. Great price, fast delivery. Thank you.
Remote as described. Price on high side considering customer is responsible for shipping, however, not easy to find product, so thank you for having made available!
Remote arrived in a timely fashion and works perfectly, still has to stand the test of time but functions flawlessly a month after purchase.
Paired easily and works like a charm.
The remote wouldn't work. I called their customer service and they told me where the instructions were to "Pair" the remote to the TV. Very good customer service!! TV remote arrived on time. Works great.
Fast shipping and condition was as specified.
Working great super fast shipping and a great price.
Fast shipping excellent condition
The remote delivered was not "brand new". There were a few cosmetic blemishes upon delivery, but the product worked so Im happy.
My heart sank when I saw my dog chewed remote. Lifesaver perfect new remote works like new.
Every thing is working well and the delivery time was excellent! Thank you
Best remote I've ever used. Simple design, small and easy to use. No more multi remote controls laying around. This thing runs it all.
Works like new but didnt get the batteries that was ordered along with it
Operating Manuals Available for SAMSUNG BN5901260A TV Remote Control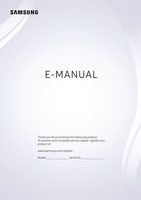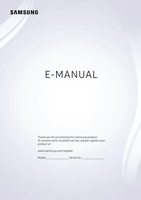 Originally Supplied with Models