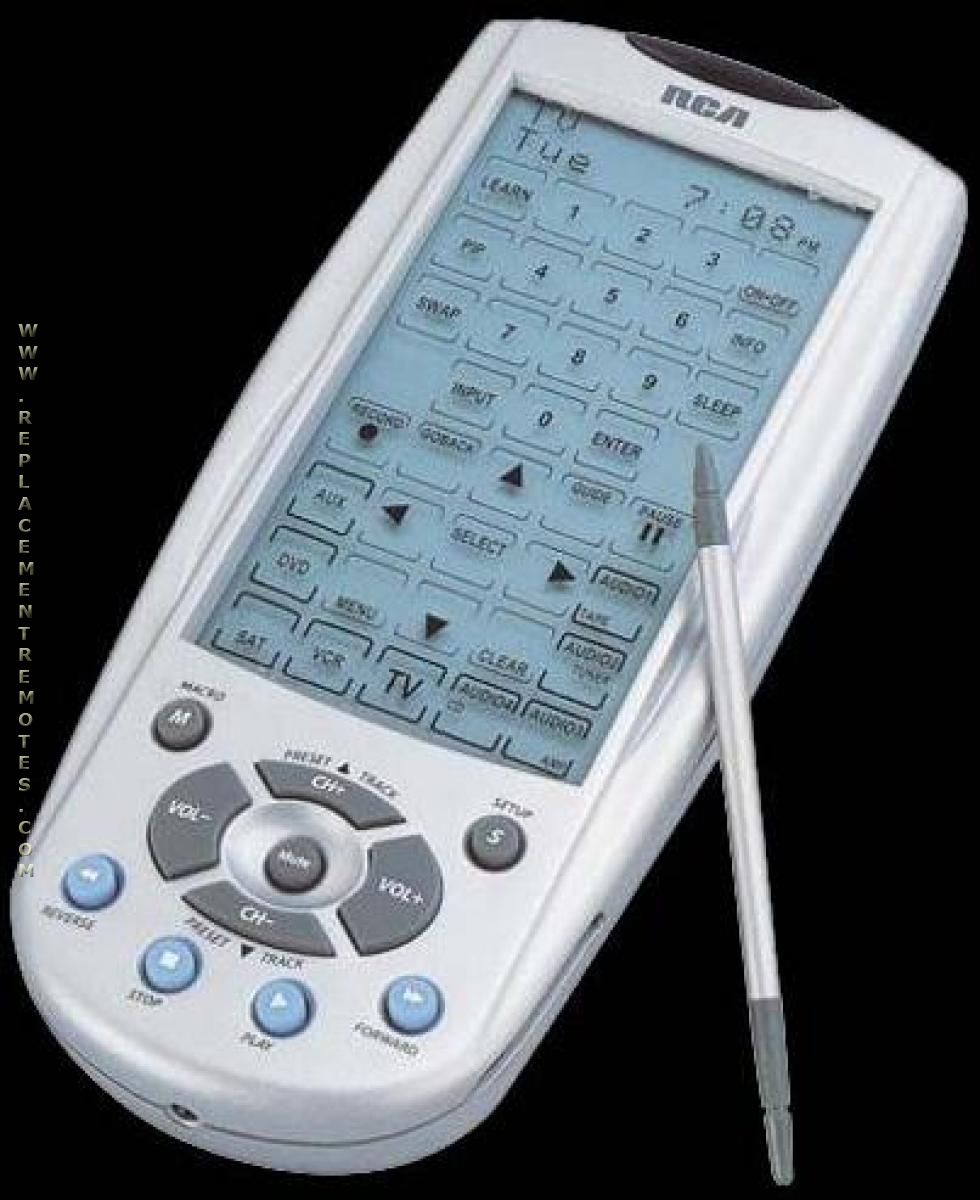 Roll over image to zoom in
Click on image to zoom
Product Description:
RCA Touch screen Learning Remote Control ,
9-in-1 Learning Remote
Product Description , For home theater enthusiasts looking for an efficient and easy way to manage their audio and video components, Thomson multimedia has introduced the RCA Touch Screen Learning Remote Control.
The RCA RCU1000B controls up to 9 devices and features a learning function and nine macro keys - allowing the user to customize entertainment center settings with the touch of a button.
The RCA RCU1000B Touch Screen Learning Remote Control features a crisp, high-resolution screen that measures 4.5 inches high by 2.5 inches wide.
The dot-matrix text layout has 40 clearly labeled key areas, which can be customized to display the functions the user performs most often, such as VCR recording, picture-in-picture and a timer that allows an event to happen at a later time, such as 'turn the TV on at 7: 00PM'.
Timer mode allows you to set up to four individual commands. It must be reprogrammed after each event occurs. Features Product Description - RCA RCU 1000B - universal remote control, Device Type - Universal remote control, Enclosure Color - Silver, Weight - 2.5 oz, Localization - English, Connectivity Technology - Infrared, Supported Device Qty - 9, Supported Devices - Radio, amplifier, TV, VCR, CD player / changer, satellite TV system, cassette deck, cable box, DVD player, Input Device - Keypad, touch screen - 11 buttons, Display - LCD display, Battery - 4 x standard battery - AA type - alkaline, Manufacturer
Warranty - 60 day warranty
Model: RCU1000B
Part Number: RCU1000B
Catalogue No.: 4938

The original RCA RCU1000B Advanced Universal Remote Control carries a 60-Days Warranty.