Roll over image to zoom in
Click on image to zoom
Product Description:
RCA PROJECTION TV REMOTE CONTROL
MODEL: R401A2, R401A1
PN: 273015
WILL PROGRAM TO OTHER UNITS. ONLY WORKS FOR RCA TV'S
Model: R401A2
Part Number: 273015
Catalogue No.: 51993

Battery Required :
AA Battery 2 pack
The original RCA R401A2 TV Remote Control carries a 60-Days Warranty.
RCA R401A2 TV Remote Control is guaranteed to work with the following TV models:
Originally supplied with TV models: RCA 52WH73YX39, RCA M50WH72S, RCA M50WH72SYX1, RCA M50WH73, RCA M50WH73YX1, RCA M50WH74, RCA M50WH74S, RCA M50WH74SYX1, RCA M50WH74SYX2, RCA M50WH74YX1 RCA M50WH92S RCA M50WH92SYX1 RCA M61WH74 RCA M61WH74S RCA M61WH74SYX1 RCA M61WH74YX1 RCA R401A2 RCA r52w874 RCA R52WH66 RCA R52WH66YX61 RCA R52WH71YX38 RCA R52WH73 RCA R52WH73YX39 RCA R52WH73YX56 RCA R52WH73YX61 RCA R52WH74 RCA R52WH74YX38 RCA R52WH74YX39 RCA R52WH74YX56 RCA R52WH74YX58 RCA R52WH74YX60 RCA R52WH74YX61 RCA R52WH74YX66 RCA R52WH74YX84 RCA R52WH76 RCA R52WH76YX51 RCA R52WH76YX56 RCA R52WH76YX61 RCA R52WH77 RCA R52WH77YX38 RCA R52WH77YX51 RCA R52WH77YX56 RCA R52WH77YX58 RCA R52WH77YX60 RCA R52WH77YX61 RCA R52WM24 RCA R52WM24YX39 RCA R52WM24YX51 RCA R52WM24YX60 RCA R52WM24YX61 RCA R53WH77 RCA R56WH74YX61 RCA R56WH76 RCA R56WH76YX39 RCA R56WH76YX51 RCA R56WH76YX61 RCA R56WH78 RCA R56WH78YX51 RCA R56WH78YX53 RCA R56WH78YX61 RCA R61WH76 RCA R61WH76YX39 RCA R61WH76YX51 RCA R61WH76YX61
Compatible with TV models: RCA L26WD14, RCA L26WD23, RCA L32WD14, RCA L32WD22, RCA L32WD22A, RCA L32WD23, RCA L32WD250, RCA L32WD250YX1, RCA L37WD14, RCA L37WD2 RCA L37WD22 RCA L37WD250 RCA L42WD22 RCA L42WD22YX5 RCA L42WD22YX6 RCA L42WD250YX6 RCA L46WD22 RCA L46WD22YX11 RCA L46WD22YX5 RCA L46WD250 RCA L46WD250YX1 RCA L46WD250YX11
Customer Reviews
RCA R401A2 Remote Control
wow just like the original !
RCA R401A2 Remote Control
I would recommend my friends if they need the remote replacements!
RCA R401A2 Remote Control
Tv remote worked out of the package.
RCA R401A2 Remote Control
I use the product at home and yes I recommend replacement remote
RCA R401A2 Remote Control
I use the product for which it was intended and I would recommend the product to others if it was not available in a local store.
RCA R401A2 Remote Control
RCA R401A2 Remote Control
Used on my 2007 RCA Widescreen Rear Projection HD TV.
RCA R401A2 Remote Control
Just what I wanted in a remote.
RCA R401A2 Remote Control
Operating Manuals Available for RCA R401A2 TV Remote Control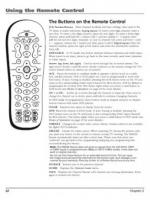 Originally Supplied with Models