Product Description:
PROSCAN V2 LONG
Specifications
Model: PROV2.LONG
Part Number: PROV2.LONG
Catalogue No.: 91392
Battery Required :

AAA Battery 2 pack

Dimensions:

2.00 x 6.00 x 1.00 (W x L x D, inches)
The Proscan PROV2.LONG TV Remote Control is originally supplied with TV models: Proscan PLCD3271AB, Proscan PLCD3903A, Proscan PLCD3992A, Proscan PLCD5085A, Proscan PLCD5092A, Proscan PLED4664A, Proscan PLED5529A-B, Proscan RLED3218A, Proscan RLED3264A, Proscan RLED3265A Proscan RLED4664A Proscan RLED5592A
The Proscan PROV2.LONG TV Remote Control is compatible with TV models: RCA RLC1909, RCA RLC3257A, RCA RLC3257C, RCA RLC3257D, RCA RLED4627A, RCA RTRLED3218A,
Customer Reviews
Excellent remote and very happy, thanks
The remote was great!!!! Put the batteries in and it started right up. Did not have to program at all and I was so glad of that.
Operating Manual Available for Proscan PROV2.LONG TV Remote Control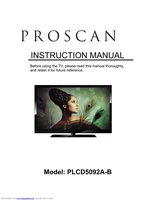 Originally Supplied with Models